New Year's Resolutions
January 3, 2020
ISWebmaster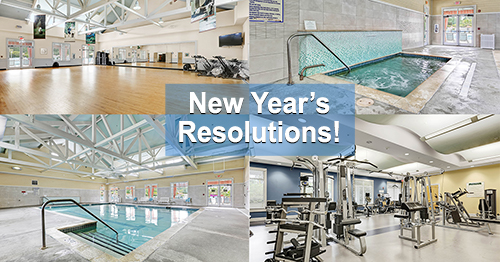 Happy New Year from the team at Brunswick Forest! 2020 is finally here, and that means many people will have the same thing on their minds. New Year's Resolutions are part of a tradition that spans back to ancient Babylonia, but it's still a goal or set of goals that resonates strongly for people all over the world.
Residents of Brunswick Forest don't have to travel very far to keep to their physical New Year's Resolution plans. Our 18,000 square-foot staffed Fitness and Wellness Center provides you with everything you need to keep active for the upcoming year! Have you ever wondered where such an idea like New Year's Resolutions even began? Turn the clock back, because we're about to travel in time 4,000 years ago! In ancient Babylon, people held festivals once their new year began. These festivals involved crowning a new king, reaffirming allegiance to their old king, paying off old debts and returning items they borrowed. These humble beginnings often had religious significance, believing their Gods would bestow favor on them, for the new year, if they kept to their word!
Romans also held annual practices where none other than Julius Caesar himself would declare January a sacred month in honor of the God, Janus. Romans would work hard to show reverence to the deity by showing good conduct for the new year, leaving behind the past and looking ahead. Even early Christians believed that by absolving for past misdeeds, they would be blessed in the coming year by improving upon themselves. These older traditions are the forerunners on the modern New Year's Day Resolution.
Now that you know a little history on the subject, you can begin your own New Year's Resolution for 2020! While Brunswick Forest has plenty of clubs, pickleball courts, tennis courts and other great amenities to keep you living an active lifestyle, there are plenty of simple actions you can start on right now to live your best life!
Eating more veggies in your diet can help turn your body into a lean, mean, life enjoying machine! It helps to keep your system in good working order, regardless if you are trying to lose weight or not.
Book all your doctors visits for the year ahead of time in 2020. Keeping your appointments in order makes sure you're not missing important health checks as the year goes by. Thanks to facilities like Coastal Integrative Health, EmergeOrtho and New Hanover Regional Medical Center in The Villages Town Center, this is easy for any Brunswick Forest resident!
Take up Yoga or other mind-balancing activities. Resident-sponsored activities can provide you with a lot of social outlets while doing healthy activities like Yoga. Experts insist that deep breathing exercises helps relax your mind and strengthens your body!
Drinking more water and getting more sleep also helps to better regulate your body! Later stages of sleep can jeopardize water conservations, especially when you're only getting 6 or less hours of sleep. Be sure to get a good night's rest after a day of fun and stay hydrated.
Try to add one new exercise move to your daily routine! Even simple pushups, stretching and outdoor activity like walking can help you stay limber and ready to keep moving.
Brunswick Forest health coach, Alan Murphy, has a resolution to not make New Year's resolutions.  Instead, he suggests setting goals and initiating an action plan to achieve them. "We set goals and make plans for things like vacations, careers, and retirement but we forget to do some planning and goal setting for our most important asset, our health." Alan says. Goal setting is different from making resolutions in that it's more than just deciding to give up something that's not so good for us and adding more good stuff in.  It doesn't matter what you try to do, be sure to unleash the ideal you for the new year ahead! Active lifestyles for the new year are best accommodated at Brunswick Forest's master-planned community! If this sounds like the kind of lifestyle for you, contact us at: 855.983.9579