NEW RESIDENT SPOTLIGHT | THE MURPHYS
July 19, 2015
Brunswick Forest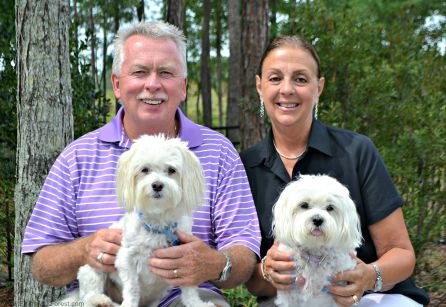 Kevin and Maria Murphy moved to Brunswick Forest April 2014 from Ossining, New York in the Hudson Valley and say North Carolina feels more like home to them now than New York, despite having lived their whole lives in the Northeast and New England. "The last time we flew to North Carolina from New York, I felt like this was the direction I was supposed to be traveling," says Maria.
Kevin holds a similar sentiment. An avid surfer in his youth, he enjoyed looking at surf photography that was, for the most part, shot on the North Carolina coast. Because of this, he always had fond feelings for the area. "I just felt like I needed to be in North Carolina," he says. The couple spends a lot of their free time at Wrightsville Beach.
It was not just their innate love for the area that led the Murphys to relocate to the South. The high cost of living, high taxes, and Maria' long commute to work in New York City all contributed to the couple's desire to move out of the New York area. "We were just running ourselves ragged trying to keep up with the lifestyle up there," says Maria. "We thought…why not try something different?"
Their new lifestyle at Brunswick Forest allows them to enjoy their expansive modified Lexington III home with gorgeous views of Cape Fear National from their all-season lanai in addition to a wealth of community amenities that support their active lifestyle. Their two Maltese dogs, Cabo and Cayman, also love their new home and neighbors. Kevin is an active gardener, and the Murphys can often be seen outside working on their landscaping together.
Despite having access for years to all of the culture and nightlife that can be found in Manhattan, the Murphys say that they were pleasantly surprised to find that the Wilmington area has so much to offer in terms of the arts. "I was surprised at the quality of cultural opportunities," says Maria. The couple enjoys seeing classical music performances at UNCW's Kenan Auditorium as well as taking in shows at Thalian Hall and catching live comedy at the Dead Crow Comedy Club. The Murphys are also big foodies and have enjoyed getting to know the area's restaurants. Some of their favorites include RX, Aubrianas, Catch, The George and Jester's Café.
Welcome to the neighborhood, Kevin and Maria! We are so glad you chose to relocate to Brunswick Forest!
888.371.2434
www.BrunswickForest.com