NEW NEIGHBOR SPOTLIGHT | THE PICKENS
July 2, 2014
Brunswick Forest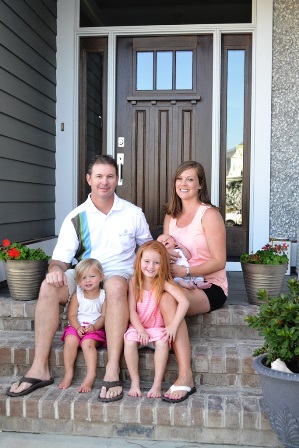 Katy and Travis Pickens left the metro Atlanta, Georgia area in search of a place that offered both the amenities and activities that they were used to and a more family oriented town to raise their growing family. After several Memorial Day weekend visits to the Leland area, The Pickens knew they loved this part of the state not only for its enviable four seasons but also for its coastal location and easy access to the water.
Having learned that Brunswick Forest was the "hot spot" in Leland, The Pickens could easily see themselves living and loving Brunswick Forest. The overall master plan and superior amenities were top reasons for the decision to call Brunswick Forest home. Since Travis' work brings him to both Wilmington and Southport, Brunswick Forest's prime location between each city was another essential deciding factor.
"The social activities have allowed us to form good friendships," says Katy who also loves all of the children based activities that are planned throughout the year.
"Trunk or Treat, the Brunswick Forest Summer Concerts, Annual Cardboard Boat Regatta and Christmas events are all family favorites for us," Kate continued.
The Pickens love their home in Cape Fear National, and whether Travis is playing a round of golf or the whole family is enjoying a day at the pool, one thing remains true, Brunswick Forest was the right place for this family to call home!
www.brunswickforest.com
888.371.2434