NEW NEIGHBOR SPOTLIGHT | THE MCALICKS
June 3, 2016
Brunswick Forest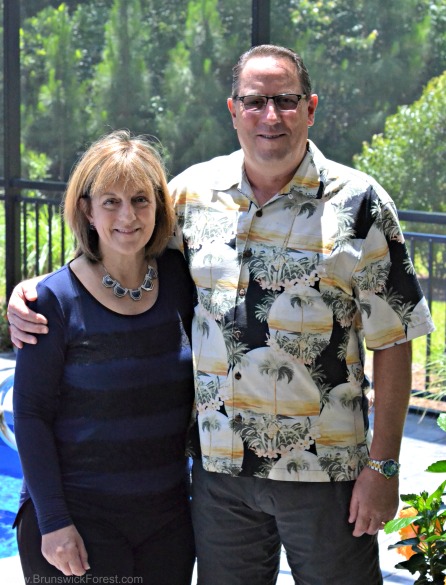 John and Barbara McAlick moved in to their home in The Hammocks at Brunswick Forest last April from central New Jersey. The couple had originally intended to make their retirement home in Hilton Head, South Carolina, but one visit to Brunswick Forest was enough to sell them on the community and its active lifestyle.
A SUPPORTIVE TEAM
John and Barbara praise Brunswick Forest's sales agent, Brian Galeucia, for his efforts in helping them with the relocation process. Brian assisted them with finding a rental home in the community to live in while their Banyan III model home was being built, and provided a lot of guidance and support throughout their two moves. "Brian was instrumental in making the process as seamless as possible," Barbara says.
A DISTINCTIVE COMMUNITY
The McAlicks visited other master-planned communities in the Wilmington area, but Brunswick Forest stood out because of its prime location close to downtown Wilmington and because the community just felt "right" to the couple. "We felt very much at home," Barbara says. John also appreciated the fact that Brunswick Forest has a championship golf course located within the community, but that fees for the course are not included in the monthly association fees.
ARTS, CULTURE AND NIGHTLIFE
While moving away from home and loved ones can be a daunting prospect, the McAlicks say that they have not had any difficulty meeting new friends since joining the community and, in fact, have a busier social life than ever. They enjoy going to events at the clubhouse at Cape Fear National like Trivia Night, MINGO and the Uncorked Wine Tastings. They love the fact that nearby Wilmington has ample opportunities to take in arts, culture and nightlife and the couple has been to several events hosted at Cape Fear Community College and the University of North Carolina at Wilmington.
When asked if they would recommend the community to others, both couples offer an enthusiastic yes. "We will, and we have in the past," John says.
Thanks for referring the community to others, John and Barbara! We're so glad you chose Brunswick Forest!
888.371.2434
www.BrunswickForest.com