NEW NEIGHBOR SPOTLIGHT | THE CARONS'
October 10, 2014
Brunswick Forest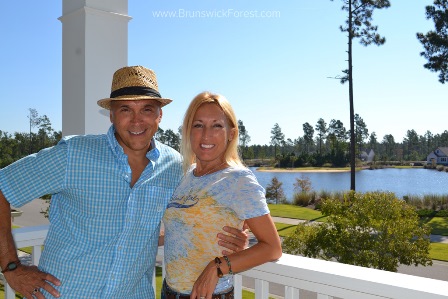 As their 12th and final move, Eric and Marie Caron, have found their ideal home and lifestyle in Brunswick Forest. "Our neighbors have welcomed us to the front porch lifestyle of Shelmore and we couldn't be happier!" exclaims Marie.
"To us Brunswick Forest is a place that provides a vacation lifestyle, amenities at your doorstep and an absolutely great location!" describes Marie. Since becoming official Brunswick Forest residents this past summer, Eric and Marie have been making the most of the coastal, active lifestyle including pickle ball, the Brunswick Forest Ambassador Program, making use of the pools, fitness center, walking and biking trails and work out classes.
This active pair cites, "The good mix of price ranges, quality amenities and our home builder, Plantation Building Corp are the tops reasons we chose to call Brunswick Forest home."
"The Wilmington area offers a positive energy that is contagious" explains Eric who enjoys taking advantage of Wilmington's close proximity. In addition to a prime location, the Carons first fell in love with Brunswick Forest when they set their eyes on the Shelmore neighborhood. While in search for a neighborhood that provided a real sense of community and a coastal atmosphere, Shelmore became their top choice. Now the Carons can enjoy a slice of coastal lifestyle daily from the balcony of their home located in direct view of the charming beach at Hammock Lake.
The Carons have found their ideal coastal lifestyle at Brunswick Forest and as Eric explains, "We are done moving, but will continue to explore!"
888.371.2434
www.BrunswickForest.com