NEW NEIGHBOR SPOTLIGHT: PAUL AND CINDI ORNSTEIN
March 7, 2017
Katie McAlick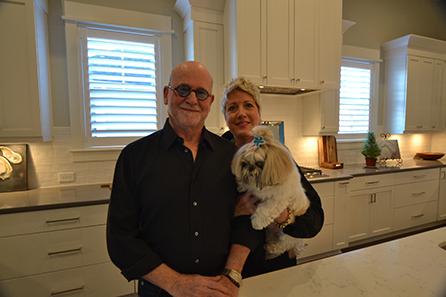 Meet your new neighbors, Paul and Cindi Ornstein! Formerly from Charlotte, Paul and Cindi moved into their gorgeous custom home by Plantation Building Corp. a month ago and have jumped right into the Brunswick Forest community! With the help of Brunswick Forest Sales Executive, Brian Galeucia, the Ornstein's found their home site on Hammock Lake in Shelmore a year and a half ago, and are loving every minute of living in a prime location.
Making the Move
After successful careers as fashion manufacturers in Los Angeles, the Ornstein's are thoroughly enjoying retirement in the coastal south! From activities like pickleball, venturing along the walking and biking trails, painting, and going to the beach, Paul and Cindi love the various activities Brunswick Forest has to offer! They found it easy to get involved in the community, and all the amenities, clubs, and resident-sponsored activities "make it easy for newcomers to find their niche."
Connecting With the Community
While their home was being built, Paul and Cindi were still able to dive right into Brunswick Forest living. With the help of their Brunswick Forest Sales Executive, Brian Galeucia, they were able to rent in the community while their home was under construction, enabling them to explore the local area and the city of Wilmington. Both Paul and Cindi emphasize the tremendous help Brian was and say he was a "great ambassador in making us comfortable and familiar with the area."
Welcome Paul and Cindi! And great job Brian!!
866-831-8289