NEW NEIGHBOR SPOTLIGHT | BILL AND CHERYL DAVENPORT
March 4, 2016
Brunswick Forest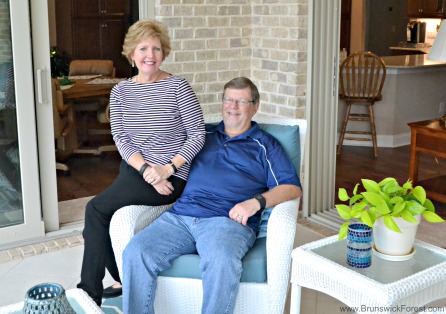 Avid golfers Bill and Cheryl Davenport are extremely happy with their decision to move to Brunswick Forest from their home in Maryland of more than 20 years. The couple love to tell a funny story about their former neighbors in Maryland. They sold their home, and the Davenports suggested they check out Brunswick Forest. Without communicating it to one another, the Davenports and their neighbors ending up selecting home sites in Cape Fear National across the street from one another! "It wasn't planned at all," says Bill. "People are always amazed when we tell them that story."
FRIENDLY NEIGHBORS IN AN ACTIVE COMMUNITY
The happy coincidence of finding themselves with neighbors they already knew was a definite plus, however the Davenports say they have not had any trouble meeting new friends in the community. In fact, it was the friendly people that really convinced them to choose Brunswick Forest for their retirement home. Both Bill and Cheryl stay active and take advantage of the community's many amenities and group activities, which has helped them meet people from Brunswick Forest's other neighborhoods. Aside from golfing at Cape Fear National, Bill enjoys working out at the Fitness and Wellness Center, and Cheryl is learning how to play bridge, enjoys going to water aerobics classes.
QUALITY HEALTHCARE LOCATED RIGHT WITHIN THE COMMUNITY
Both Bill and Cheryl are especially pleased with the convenience and level of quality of the medical offerings in The Villages at Brunswick Forest. The couple raves over the level of care they have received at Blue Wave Dentistry, and they have found having the satellite office for the New Hanover Regional Medical Center to be extremely beneficial.
Welcome to the community, Bill and Cheryl!
888.371.2434
www.BrunswickForest.com