NEW MENU, NEW BEER & A NEW CLUB — THE FOREST AT CAPE FEAR NATIONAL
August 8, 2017
Beth Burgee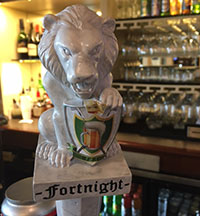 New, New, New…that's what we're shouting at The Forest at Cape Fear National!!  This month were rolling out a new menu, a new beer and a new club…exciting times!
Chef Scott has pulled together an amazing line up of new dishes to try at The Forest and the Prime Rib French Dip is leading the way as the crowd favorite!  Folks are also loving The Forest Grill selections where you choose your protein + basting sauce and the dish comes accompanied by seasonal mixed vegetables and naan bread.  Delish!!
Have a refreshing beverage while you're grabbing a bite!  Try our new Fortnight Blonde Ale brewed exclusively for The Forest at Cape Fear National by…you guessed it — Fortnight Brewing Company out of Cary, NC!!  This light beer is perfect for the summer heat, but won't last long as we will be receiving exclusive craft brewed beer seasonally from Fortnight for our 19th hole!
Naturally when you have a beer brewed exclusively for your crowd, it's time to start your own Beer Club and that is what's up next at The Forest at Cape Fear National!!  Stay tuned…we will be rolling out more details about this fun, new venture!!
So gather your friends and family and head to The Forest at Cape Fear National for some New, New, New things!!
www.brunswickforest.com
888.371.2434