NEW GPS-EQUIPPED GOLF CARTS NOW AT CAPE FEAR NATIONAL
August 5, 2016
Brunswick Forest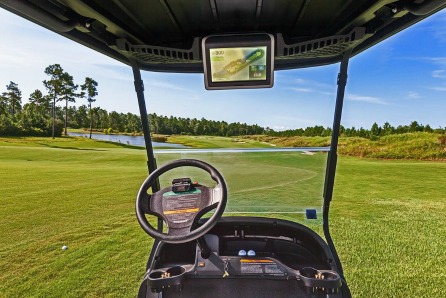 Cape Fear National is pleased to present a new fleet of golf carts with GPS technology! Every golf cart in the fleet at Cape Fear National has been replaced with the Precedent i3, the first golf cart in the world with built-in connectivity.
NEW FEATURES
The new Precedent i3 Club Cars will help to show time elapsed since beginning play, allow players to determine precise yardages, show hole hazards, give an aerial representation of each hole, track pace of play, allow players to order food and beverages right from the cart, message the course staff, keep score and email the scorecard to themselves after play. For tournaments at Cape Fear National, the new carts will provide real-time tournament leader boards.
BOOK YOUR TEE TIME NOW
Cape Fear National is the only course in the area that offers this GPS technology so book your tee time now to ensure you will be able to be one of the first players to experience the unique innovation offered by the Precedent i3 Club Cars.
ENTER TO WIN A PING DRIVER
Right now, Cape Fear National is celebrating the launch of the new club cars with a special giveaway! Enter to win a Ping driver and take advantage of this great opportunity to play the area's finest course!