Nearby Coastal Towns – Carolina Beach
May 15, 2018
Beth Burgee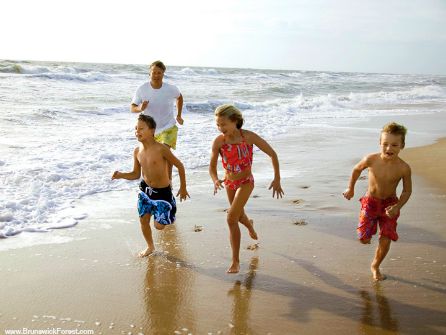 We're hitting the road again and cruising about 30 minutes southeast to one of our favorite coastal towns, Carolina Beach. Located about 15 miles south of Wilmington, Carolina Beach offers a fun-loving and relaxed atmosphere that will have you feeling right at home.
Known for their easy-going beach vibe, this coastal towns offers tons of activities to keep you busy during your visit.
CAROLINA BEACH STATE PARK
A popular coastal attraction for visitors and residents, Carolina Beach State Park encompasses 761 acres and includes a Visitor's Center, marina/fuel dock, hiking trails and secluded campsites throughout the grounds. Campsites are equipped for tents, but the park also offers cabins for sleeping up to 6 people.
The 54-slip marina provides access to some of the best fishing spots in North Carolina and offers two public boat ramps. Also located at the park are seasonal kayak and stand-up paddleboard tours and rentals.
CAROLINA BEACH BOARDWALK
Ranked one of the top 10 boardwalks in the country by Food & Wine magazine, this oceanside boardwalk features shopping, amusement rides, restaurants and nightlife for visitors to explore. Their iconic amusement rides open up during the summer months and include a ferris wheel, a variety of carnival rides, and fair-friendly food. Also featured along the boardwalk is their weekly firework display and concert series.
If you're looking to take a quick break from the sun and sand, the boardwalk offers a variety of dining options and shops to keep you busy through the day and into the evening hours. Once the sun goes down, you'll find several bars and pubs that stay open and feature live music, karaoke, trivia nights and more.
*Insiders tip* – Stop in to Britt's Donut Shop for one of their infamous glazed donuts. Established in 1939, Britt's is a Carolina Beach boardwalk staple and any local will tell you it's a must-try while you're in the area!
NORTH CAROLINA AQUARIUM AND FORT FISHER
One of North Carolina's most popular attractions, the North Carolina Aquarium at Fort Fisher is filled with exhibits of marine life and and various aquatic environments. Discover habitats and wildlife from North Carolina and around the world with freshwater streams and swamps to coastline habitats, reefs and the open ocean.
One of the most treasured barrier island attractions, Fort Fisher State Historic Site needs to be added to your list of places to visit while you're in the area. Covering nearly 6 miles of clear and uncluttered beaches, the state park touches both the Atlantic Ocean and the Cape Fear River. The area attracts birders and photographers; while other popular activities include surf fishing, exploring nature trails, surfing and exploring the original site of Fort Fisher itself, a relic of the 1800s and an instrumental turning point during the Civil War.
866-831-8289