Modern, Farmhouse Style Homes
June 19, 2019
ISWebmaster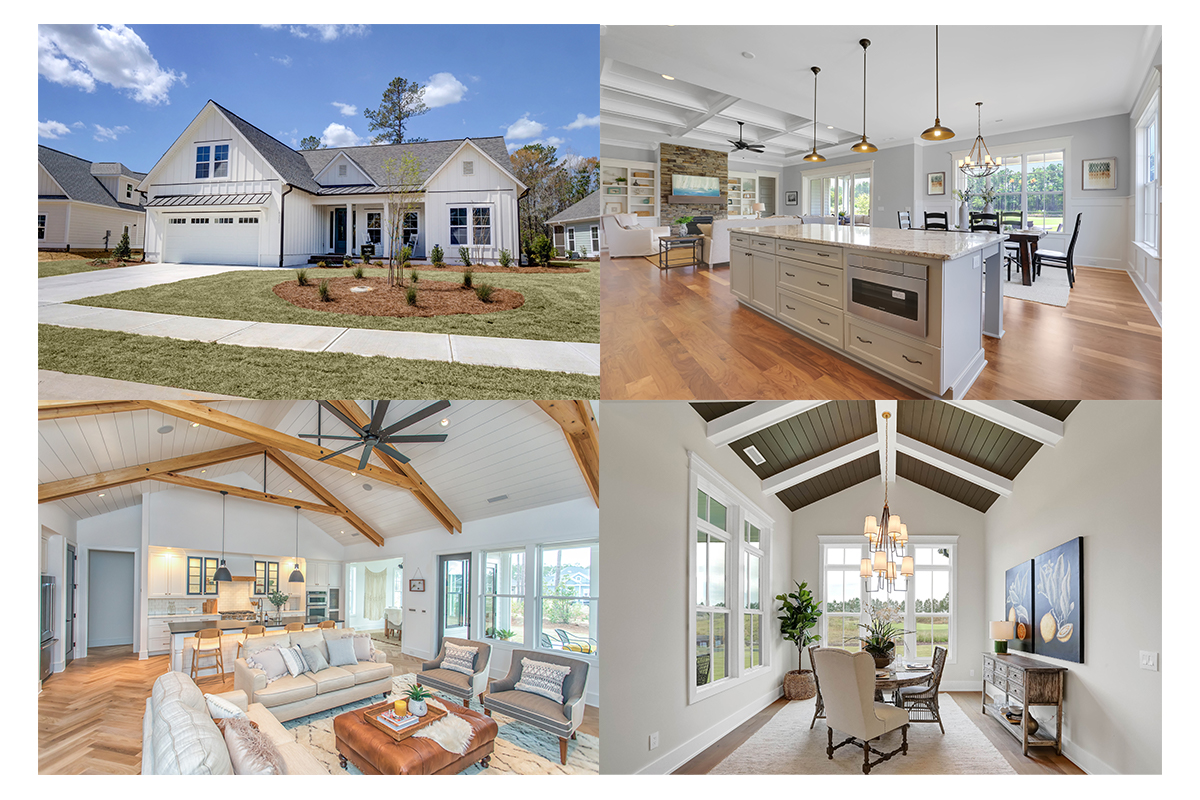 Looking for something a little more unique when it comes to deciding on a new home? At Brunswick Forest, variety is exactly what we like to offer our potential residents. A wide variety of floorplans that can accommodate any lifestyle choice that you have in mind, is part of what makes our community so desirable. With thirteen builders ready to build your dream home, aspiring homeowners have a lot to look forward to when moving to Brunswick Forest.
One of the more rustic styles that we have available is the farmhouse style floorplan. Debuting as a minimalist style in the 90s and early 2000s, this charming style of home is now making a big hit with current homeowners. What do we mean when we say, "farmhouse style?" These style floorplans are all about capturing the look and feel of old country farmhouses, while giving it a new twist for the modern day. These homes include special interior features like wide open floor areas, wrought iron accents, spacious kitchens, wide floorboards and thick barndoors.
An aesthetically pleasing interior space, the farmhouse style has an open layout and is brimming with craftsmanship. The unique part about farmhouse styled homes, is that they feel classic without feeling out of date or historic. For those looking to have a little taste of rustic architecture without sacrificing modern standards, farmhouse style floorplans offer the best of both worlds. Because of this, farmhouse homes often inspire feelings of warmth and comfort. There's also little allowance for clutter in this style of home, meaning that you can have a living space that feels cozy without being stuffy. The build quality inside a farmhouse style home is solid and tangible, often being made of reclaimed wood from older structures. All these elements blend together so that each farmhouse styled home will feel authentic to the structures they take inspiration from.
Farmhouse style residences aren't lacking on exterior aesthetics either. Exterior elements include gable roofs, steep roof pitches and metal roofs. If you love having a comfortable space to enjoy the outdoors, then you'll appreciate the wrap around porches that most farmhouse styles provide. Lap siding as well as board and batten help to tie the exterior appeal of the farmhouse style all together in one package.
Brunswick Forest offers a variety of farmhouse models that you can experience. There's the Pale Oak model by Bell Residential, The Sauthier II and The Lark by Plantation Building Co. and The Skiff by Logan Homes and The Marietta by Legacy Homes. These models all provide that sense of comfort that the classic farmhouse style is known for.
Check out the photos below!