Meet The Tuckers & Mahogany Rock Tree Farm
December 5, 2018
Beth Burgee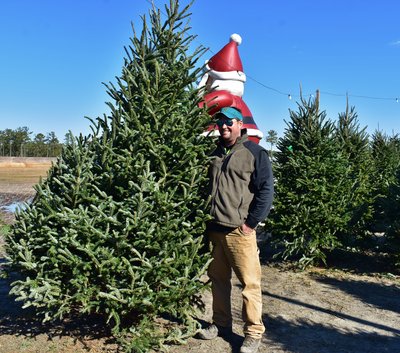 Often times it doesn't officially feel like the holidays until you've picked out your holiday wreath or tree. Selecting a tree becomes a tradition each year that leaves lasting memories of the magic of the holidays on us all. There's something special about finding that perfect tree for your home. If you are still on the hunt for that perfect tree or wreath to hang on your front door, look no further than the Tucker's tree lot located right here in The Villages at Brunswick Forest.
The lot is run by Patrick and Julie Tucker from Sparta, North Carolina. Patrick and Julie are the owners of a Christmas Tree Farm called Mahogany Rock Tree Farm in Alleghany County in the mountains of North Carolina. Patrick's connection to the Leland area stems back to his college years. Patrick is a graduate of the University of North Carolina at Wilmington and he fell in love with the area during his time there, which is what brings him and his wife, Julie, back each year to open up their tree lot. This year TRUSST Builders helped coordinate the Christmas tree lot with the Tuckers!
The Tuckers have had their Christmas tree lot here in Brunswick Forest for the last 4 years, and in Leland for 9 years. but their history with farming Christmas trees goes back even further! "We both grew up working in family owned tree fields during high school and college breaks so we were destined to be in the business. Our 9 year old son learned his colors when he was little by helping to tag trees following us in the fields," says Julie.
All of the trees are grown on their farm in Alleghany County and each week a fresh batch of Fraser Fir trees are delivered to the lot. In addition to trees, they also have wreaths, roping, and tree stands available to purchase at their lot. The Tuckers' lot is located at 1484 Brunswick Village Blvd in The Villages where you will see the giant red Santa Clause waiting to greet you! The lot opened on Thanksgiving Day and will run through the month of December. If you would like to join their mailing list, you can text mahoganyrock to 22828 to receive coupons and notifications of fresh tree deliveries!