MEET PATRICK…
August 8, 2014
Brunswick Forest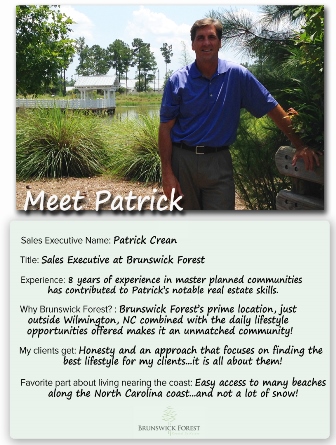 Patrick's honest and client-focused approach to real estate sets him apart as one of the most detailed sales executives at Brunswick Forest! Eight years of experience working specifically in master planned communities has allowed Patrick to become a true expert in all things real estate and lifestyle related!
When asked, "Why Brunswick Forest?" Patrick easily answered, "The proximity to the Wilmington, NC area combined with the daily active lifestyle Brunswick Forest affords makes it an ideal community to call home."
For Patrick, easy access to the many beautiful beaches located along the North Carolina coast and little to no snow are his top reasons for living near the coast!
888.371.2434
www.BrunswickForest.com