Meet Dustin Graf of Cape Fear National
May 17, 2022
ISWebmaster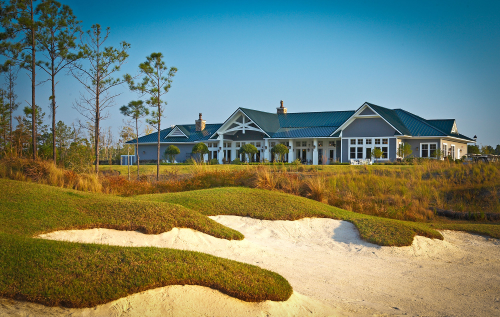 Changes Abound
For those of you who may not have heard, our resident championship golf course is currently under new management. But Cape Fear National is still the same five-star course you know and love. The newest manager, Dustin Graf, takes a moment to speak with us about what you can expect in the days ahead.
Meet Dustin
Dustin is not a North Carolina native, instead, he grew up in Colorado. But throughout his journey, he has accumulated lots of experience in customer service, which eventually led him to be a part of Heritage Golf Group.
His Experience
"Out West I had a 13-year career with Marriott that includes Denver, Santa Clara, San Diego, and Palm Springs. My golf background includes many positions from Area Director of Food and Beverage, Club House Manager, Director of Sales, and General Manager at multiple clubs in both Arizona and California," Dustin tells us.
With no less than seven different golf courses under his belt over the years, Dustin is not lacking in any qualifications when it comes to managing high-class country clubs. His portfolio includes working at:
PGA West
Palm Valley Country Club (Palm Desert, CA)
Red Mountain Ranch Country Club
Monterey Country Club (Palm Desert, CA)
Ancala Country Club
Legend at Arrowhead Golf Club and Arrowhead Country Club (Glendale, AZ)
Dustin was positioned in Glendale, Arizona, before making his way over to Southeastern North Carolina. "Heritage Golf Group transferred me here once they purchased Cape Fear National," he says.

Managing Cape Fear National
Even though he moved to the other side of the country, Dustin couldn't be happier to be managing Cape Fear National. He is looking forward to making new bonds with the Brunswick Forest community and settling into life down in Wilmington. Though not much of a golfer himself, Dustin is more than willing to give golfers the best experience possible while playing one of the best courses North of Myrtle Beach. "My passion is Hospitality. I am an awful golfer," he laughs.
Managing Cape Fear National is a learning experience for Dustin, but a very positive one according to him. "There are a couple of things I like at the club. All the staff here at the club are amazing! Also, every week I see a new animal here at the club and I think it's interesting. As for favorite holes go, they all look great!"
What To Expect
Throughout the coming weeks at Cape Fear National, residents at Brunswick Forest and guests to the course will begin to see small refinements being made. "The next few months we are going to make small impactful changes. In the future, we plan to expand food and beverage along with fixing small challenges on the golf course."
More than anything else, Dustin wants residents who are familiar with Cape Fear National to know that the course is going to get even better as the year goes on. You can still expect to play your usual 18 holes on this magnificent course that has become a staple of the Brunswick Forest lifestyle. "We are hoping to bring a new fun, exciting, private experience to Cape Fear National," he concludes.