Making a Splash: Summertime Water Activities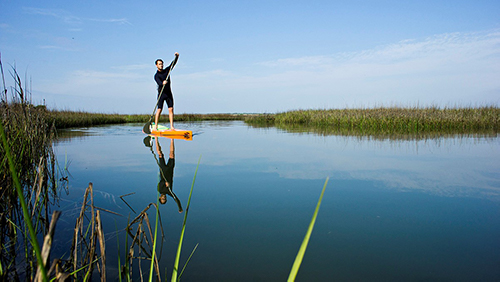 In the Southeast, beach towns attract thousands of people per year. For residents living here, it's a great perk that allows for opportunities to enjoy a variety of outdoor activities. And for any visitors who experience it for themselves, that convenience alone is often enough to consider relocation.
What's so good about being out on the water?
Water-related activities are not just a great time during a hot summer's day, but it's good for you. Being immersed in solution helps alleviate pressure on joints, and swimming is great exercise. Salt water is good for skin and joints as well. When you're out on a boat or floating in the tide, it's very relieving and refreshing to be on the water on a nice day.
Here are some Carolina favorites when it comes to spending time on the water:
Tubing:
A simple activity, but very enjoyable. Tubing is exactly like it sounds: the act of floating on an inner tube. This can be very relaxing in calm water. If you're looking to add a little fun, there are tubes are made to be tied to the back of a boat and dragged behind it. The person in the tube then rides the wake of a boat like a surfer, and it's as much fun as it sounds! Tubing should be done with a lifejacket for safety. Despite being so straightforward, tubing is one of the most popular activities to enjoy on the water.
Boating:
It has its own culture behind it, and to top it off, boating has a lot of other activities attached to it! Activities like fishing can all be performed by way of a boat. Boaters have one amazing natural playground in Southeastern North Carolina. Between the Intracoastal Waterway, multiple creeks, Bald Head Island, and the Cape Fear River, it's a boater's paradise out there! It's important to be knowledgeable about the proper safety routines and equipment for boating. Once you're all ready to go though, it offers a unique perspective of our local area like you've never seen. Whether you're looking to possibly get a vessel of your own or join your friends and neighbors on theirs, boating is a great way to relax, explore, and truly appreciate the beauty of living coastal.
Paddleboarding, canoeing, and kayaking:
Three water activities that resonate strongly with our residents at Brunswick Forest include paddleboarding, canoeing, and kayaking. Why are these activities so popular? They offer a great workout to keep you in shape, they're fun to engage in solo or with friends, easy to get into, offer a unique option for exploring and traveling between coastal waypoints, and most of all they're just fun! These activities are the perfect blend of exercise, versatility, and enjoyment. Our community has its very own river launch that leads into Town Creek to support these activities, so you never have to travel far to enjoy time on the water. Hammock Lake is also a great hot spot for fun activities.
Shelling:
While you certainly don't need to take a dip in the water to enjoy shelling, it is nevertheless a fantastic activity for this time of year. Shelling, or "Beachcombing," is the process of walking along the water's edge searching for shells that might be buried in the sand. The beaches around greater Wilmington possess a wide variety of shells that are perfect for collecting. Local shells include Whelks, Snails, Augers, Scallops, Oliver Shells, and if you're lucky enough, you might even find a Scotch Bonnet (The state shell of North Carolina)! A lot of shelling can be done in tide pools, or in very shallow areas where the waves break onto the shore. Walking barefoot in the water can reveal many little treasures that you might have not seen otherwise. If you want to find a lot of shells in the water, try going after a recent storm has passed!
These are only a few of the many activities you can enjoy on the water. So, here are a handful more that we encourage you to try or learn more about this summer! They will prove to be an excellent source of fun for your active lifestyle:
Fishing
Parasailing
Wakeboarding
Snorkeling
Skimboarding
Water Polo (Which can be played in any pool-type area. Such as the one at our Fitness and Wellness Center.)
Bodysurfing