Loving The Forest Life: Interview with Aaron and Amy Brott
July 14, 2021
ISWebmaster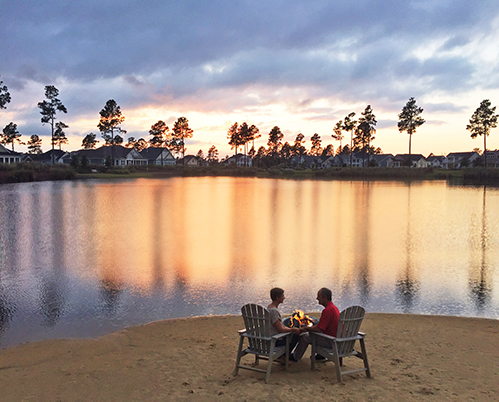 For each new face that moves to Brunswick Forest, we gain something much more important than just another new resident. We get another addition to our communal family, complete with their own unique story on how they found us. Newcomers become neighbors and neighbors become friends. Aaron and Amy Brott are two such residents that have become big advocates of Brunswick Forest's Coastal By Nature® lifestyle. We took some time to get their perspective on living here.
Originally from upstate New York, Aaron and Amy Brott are not the first couple to relocate to a warmer climate for their ideal life. Upon reaching the Southeastern coastline of greater Wilmington, they were instantly smitten with what was in front of them. They were, however, familiar with North Carolina for quite some time before finding Brunswick Forest. "We lived in Cary, North Carolina, for 20 years before moving to Wilmington," Aaron says.
Like many others before them, Aaron and Amy engaged in a discovery process to find which location would be best for their needs and desires. For the Brott's, part of their move was career-related. "We searched for places to live in Wilmington after Aaron was offered a job. Brunswick Forest was identified as one of the best places to live," Amy chimes in. "What stood out to us was the community plan and the individual "theme" of each neighborhood. We loved the concept" they said.
Relocating to a new area takes a bit to get used to, even if you've already lived in a different part of the same state for many years. However, it wasn't much of a challenge for the Brott's to make long-lasting friends at Brunswick Forest. There they found many like-minded individuals who also share a common place of origin in the Northeast. They've also become immersed in a lifestyle that involves plenty of activities, one of their favorites being the pool at Hammock Lake.
The Brott's currently live in Cypress Pointe II "We love our neighborhood and neighbors. We picked a little section with 32 homes, and we couldn't ask for a better place to live." Since moving to Brunswick Forest, the Brott's have made it their mission to let other aspiring homeowners interested in relocating know about how great it is to live here. We've had the pleasure of having them both as resident ambassadors during past events!
Helping prospective homeowners find their dream home is something our real estate team enjoys. But even more so, we love watching new residents become fans of our community's way of life! For those who are curious about seeing what Brunswick Forest can do for you, the Brott's have one piece of advice, "The advice that we would give is to take your time. Look at all the neighborhoods, get to know some of the folks that already have a home. Get to know the area and what it has to offer!" They took their time and landed right where they needed to, in Brunswick Forest. Visit us via a Coastal Discovery Tour, Coastal Home Showcase, or contact our team at 833-497-1001 for more information.