Looking the Part! Autumn Decorating with Lynn Crawford
October 28, 2019
ISWebmaster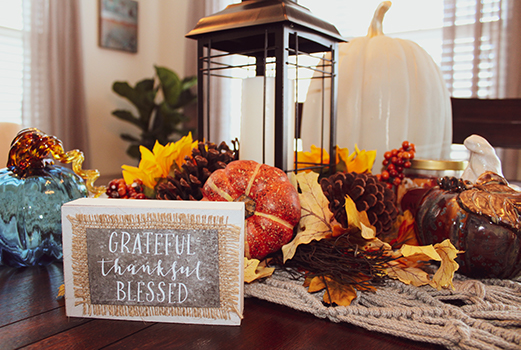 Autumn is a season of cool weather and a host of decorative items with warm earthy colors. Decorating your home during this season means figuring out how to best use all these elements in concert. Builder liaison, Lynn Crawford, is well known throughout Brunswick Forest for her tips on making any home look the part!
The great thing about decorating your home during the Autumn season, is that you can make use of natural material and simple items that you can find almost anywhere. No mater what color scheme you're going for this time of year, it's easy to give your home a nice look. "The interesting thing that I find with Autumn decorating, is that most people tend to decorate the exterior of their homes very traditionally," says Lynn. Mum flowers, pumpkins, and other dried plant material make for readily available material that you can use for decorating. Keeping up with the theme of the season is very easy to do, and you can achieve it using most of the décor provided in stores. Here are some of the great home decorating tips that Lynn recommends for this fall season.
"Bigger can be better when it comes to decorating. Think carefully about the size of your home, or the size of the front porch and entryway. Many smaller decorations tend to get lost easily. Having large vibrant decorations help to remedy this," Lynn tells us. For outdoor decorating, you want to shed some light on the situation. A few well-placed spotlights, twinkle lights or other temporary lighting can help set your home apart when it gets dark. Fall shrubbery can give your exterior plenty of seasonal character. Be sure to change out blooms and other live plant material as needed! "Make use of the nurseries in nearby stores!"
When it comes to making the interior of your home full of character, you can carry on the same theme that you've created for the exterior! "If your interior color scheme doesn't go well with traditional fall colors, it's perfectly fine to go with a unique palette that complements your colors and style," says Lynn. Artificial gourds and pumpkins can be painted any number of colors. This way, your home still has that special touch to impress your guests without having to carve anything. Neutral colors are a safe bet for any interior decorating scheme. White pumpkins, bleached leaf sprays and cotton branches are all examples of material that you can arrange in your home. You can easily add candles or lanterns to the arrangement to really add extra flair. Finally, Lynn advises that a scented candle with seasonal scents can really go a long way to tie the interior of your home together, no matter what your color scheme is.
"You can check social media like Instagram and Pinterest for inspiration if you need some ideas," Lynn concludes. No matter what time of year it is, you can easily make your home reflect the season even if you're on a budget! Give these fantastic Autumn decorating tips a try, and make your home the talk of the block!