Logan Homes, Building Better Since 1986
December 27, 2017
Beth Burgee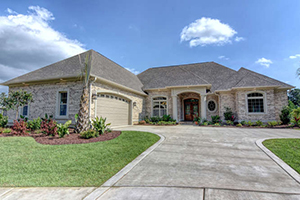 Logan Homes and Brunswick Forest equal a WINNING COMBINATION!!  This Brunswick Forest Preferred Builder Team member has been building better along the southeastern Carolina Coast since 1986.  Founder, D Logan, believes in constructing quality, luxury homes filled with value and making the process as easy as 1, 2, 3.
From contemporary to classic designs, they use cutting edge technologies, streamlined processes, attention to detail and personalized touches to exceed their client's expectations.  You will find these features and techniques in the thousands of homes they've built along the Carolina Coast and they are especially evident in the stellar homes they build in Brunswick Forest.
Check out their Brunswick Forest floor plans HERE!
Brunswick Forest and Logan Homes have been teaming up for several years and you will find their most recent partnership in Banyan Bay really delivered!  Banyan Bay is a luxurious gated enclave adjacent to the Cape Fear National® golf course, these low-maintenance, Floridian-style homes are designed for resort-like living, inside and out. You will find this neighborhood lushly landscaped with tropical indigenous plants and the homes equipped with pools, screened lanais and summer kitchens.
If you're looking for a luxury homebuilder, consider Logan Homes to make your dreams a reality.  Dream big, build smart with Logan Homes.
www.brunswickforest.com
888.371.2434