LIVE THE NATURAL LIFE
October 24, 2013
Brunswick Forest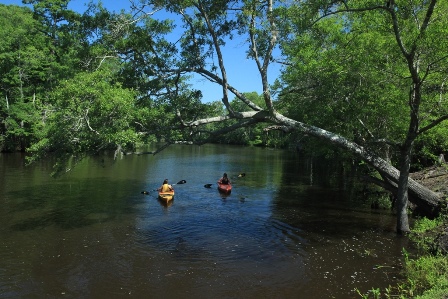 BRUNSWICK FOREST OUTDOOR AMENITIES
In Brunswick Forest beautiful real estate, a selection of top-quality amenities, and an unrivaled lifestyle are a few reasons that this coastal community is one of the best in the region. One attribute that allows Brunswick Forest to truly stand apart from the rest is the natural outdoor amenities offered to our residents. The Brunswick Forest community is set amid 4,500 acres of lush forest areas which sets the perfect backdrop for enjoying the exceptional outdoor amenities of this attractive master planned community.
THE RIVER CLUB
Picturesque Town Creek borders the Brunswick Forest community and is one of the community's hidden treasures. The River Club functions as a kayak and canoe entry point with a launch facility onsite as well as an untouched piece of nature ready to explore! Discover Town Creek and experience the abundance of virgin forests and peaceful waterways. The banks of the River Club also make for prime fishing spots and family picnics!
WALK OR BIKE
Walking and biking trails in Brunswick ForestThe lush natural areas and well-manicured landscapes that encompass the entire Brunswick Forest community make the 100+ miles of walking, biking and nature trails truly stunning. Walk or ride these trails that meander through parks, over bridges and through all of our charming neighborhoods. The network of trails and pathways at Brunswick Forest do more than just offer an outdoor escape, they also connect all of the various neighborhoods with the top-notch amenities found throughout the community and even connect you to The Villages, a town center located at the community's entrance.
For more information please call 888.371.2434
www.BrunswickForest.com