Let's Get Active this Summer with Brunswick Forest
June 23, 2018
Beth Burgee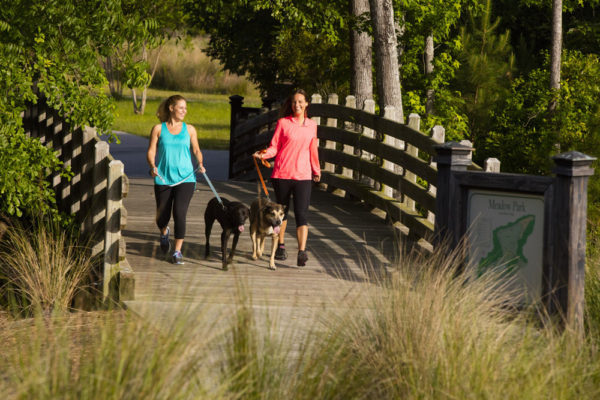 Jumping into the heart (and heat) of summer, we're taking a look at the centerpiece of our community – living out your active, healthy and Coastal by Nature lifestyle.
Brunswick Forest offers residents paved and unpaved walking and biking trails, pocket parks, lakes, ponds and gracious green spaces for neighborhood gatherings. Also found on our 4,500-acre reserve is the award-winning Cape Fear National golf course and the Fitness and Wellness Center. With a diverse selection of activities to choose from in Brunswick Forest, residents are finding new ways to get active and stay healthy every single day. Let's dive in and take a look at some of our favorite ways to stay active, healthy and happy this summer in Brunswick Forest.
Walking & Biking Trails
Winding your way between neighborhoods becomes a stroll in the park with over 100 miles of paved and unpaved walking and biking trails. One of our signature amenities, no other community in the Wilmington area offers as many walking and biking trails as Brunswick Forest. Sidewalks line every road and not only connect the neighborhoods and amenities together, they serve as a convenient connecting point to the shops, services and entertainment in The Villages at Brunswick Forest.
Ponds & Parks
Looking for some fun in the sun? Our masterfully planned community boasts several ponds, lakes and parks for a variety of events and activities. Host to outdoor concerts, casual get-togethers and other community-wide events, Annsdale Park is located in the heart of our community and is the perfect venue for almost any summer event.
Another centerpiece to our Brunswick Forest lifestyle, Hammock Lake draws in residents and visitors alike with its white sand beach, surrounding walking trails, and lovely adjacent swimming pool. Hop into your kayak and paddle around the lake while you enjoy a signature North Carolina summer sunset. We promise you won't be disappointed!
Meadow Park is located closer to the entrance of the community and includes a dedicated Bark Park for our beloved four-legged residents.
Fitness & Wellness Center
Our 18,000-square-foot Fitness & Wellness Center makes living an active and healthy lifestyle a breeze. The community-wide gathering spot is conveniently located towards the front of the community and provides up-to-date equipment and services for all residents. Features include indoor and outdoor pools, several hard-surface tennis and Pickleball courts, an aerobics studio, a cardiovascular equipment room, men's and women's locker rooms, plus massage rooms and a lounge.
Opening this past year, Hammock Lake Fitness & Meeting Rooms offer residents an additional space to exercise, swim and to host meetings, events and other gatherings. The expansion added to the already family-fun facility that featured a pool, deck and splash pad. Opening their doors in October of 2017, the new space features a new workout space and a new meeting space for groups as large as 28 people.
If that isn't enough, the Fitness & Wellness Center hosts weekly wellness programs, seminars and a wide-variety of events open to residents.
Cape Fear National
Cape Fear National is one of Wilmington's most celebrated golf courses. This award-winning championship course has 18 holes of premium public access golf right here within our community. Residents are able to enjoy this outstanding course with preferred rates and tee times. One of our favorite ways to spend a Sunday afternoon, expect to be awed by the courses bridges through wetlands, waterfalls, beach bunkers and acres of forest.
Active Community Events
Home to hundreds of events throughout the year, our community is constantly evolving and adding more community activities to the calendar. Whether it is a community-sponsored event organized by the Welcome Center, Fitness & Wellness Center or Cape Fear National, all of the activities happening throughout Brunswick Forest have one goal in mind – to bring together our residents and ensure a happy, healthy and Coastal by Nature lifestyle.
Our residents are also host to a growing number of events. Next Door, a popular website aimed at connecting neighborhood residents on a digital platform, is one of the most popular ways for our residents to stay up to date with what's going on in the community and among their neighbors. Build lasting friendships and help connect with your neighbors by following message boards with upcoming activities in Brunswick Forest.
With summertime in full swing, we've got everything you need to fill your calendar. The hardest part will be deciding which activity to choose from!
www.BrunswickForest.com
866-831-8289