Introducing the Leland Cultural Arts Center
January 21, 2018
Beth Burgee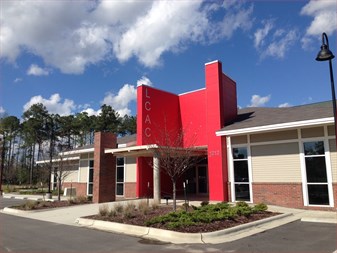 Unique to Brunswick County, the Leland Cultural Arts Center (LCAC) provides a vibrant hub for art in the local community. The 18,000 square-foot facility features a gallery, pottery studio, sculpture/stained glass studio, painting/drawing studio, dance studio, classroom, and a large performing arts space capable of hosting community theater productions, musical performances and events.
PROGRAMS, WORKSHOPS & GALLERY EXHIBITS
Offering programs for all ages, in a variety of art forms, LCAC is a great place to pick up a new skill, refine your craft or dive in head-first to a new hobby. Workshops held at the Cultural Arts Center range from visual to performing arts and vary between one-day and multi-day learning experiences. Each workshop is unique and they strive to offer several throughout the year.
Aside from workshops, programs and classes, the Leland Cultural Art Center also offers a gallery space that exhibits both emerging and established artists primarily from Southeastern North Carolina. Located in the heart of the Center, the gallery also hosts special exhibits featuring artists from other regions, group art shows, Youth Art, LCAC Instructors, and LCAC Students.
AWARDS & RECOGNITIONS
The Leland Cultural Arts Center is now gaining state-level recognition. The North Carolina Recreation & Parks Association recently awarded LCAC with the Arts & Humanities Award for their Cultural Arts Concert Series. This concert series is held in their performing arts space and hosts musicians through out the year. Be sure to check out their full concert calendar here.
At a local level, the Cultural Center received the Arts in Wilmington award this past Saturday, January 20th. This award is given to those that exhibit an excellent example of support for the arts through leadership and public policy.
"The town of Leland took advantage of an opportunity to create a cultural hub for residents and to mark Leland as an emerging arts community in the Wilmingon region," according to the release from Arts in Wilmington.
www.brunswickforest.com
888.371.2434