Leland Cultural Arts Center – Upcoming Events
November 24, 2018
Beth Burgee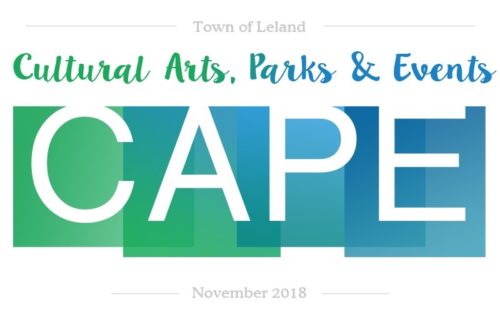 Located right outside of our Brunswick Forest community, the Leland Cultural Arts Center provides a vibrant hub for the arts in Brunswick County and surrounding areas. It is unlike any other facility in the region, with courses/programs in a multitude of art forms including pottery, theater, painting, jewelry making, literary arts, healing arts, and more. The Center includes a gallery, pottery studio, multipurpose studio, painting/drawing studio, dance studio, classroom, and a performing arts space capable of hosting community theater productions, musical performances, and events.
Hosting several upcoming events for the holiday season, LCAC stays busy with their specialty events, cultural arts classes, fitness & wellness opportunities, youth art programs, as well as a variety of other workshops and events. Let's check out what their latest happening's are!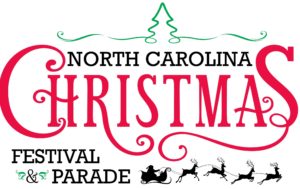 North Carolina Christmas Festival & Parade:
Saturday, December 1st
4:00-9:00pm
Presented by Unity Group of North Brunswick and the Town of Leland
This event is a new version of the NC Christmas Parade and the Leland Tree Lighting, with some changes and additions we think you're going to love! The parade will take place at night, and will feature lighted vehicles that will lead Santa and Mrs. Claus to Town Hall, where they will light the Leland tree and visit with all the little boys and girls in Santa's Workshop.  The Christmas Festival will take place in Leland Municipal Park before, during and after the parade, and will bring us around the globe with Christmas Around The World and other holiday vendors. The fun starts at 4:00 and continues throughout the evening.  Please visit the website below for details, we can't wait to see you there!
North Carolina Christmas Festival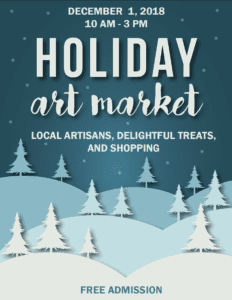 Holiday Art Market:
Saturday, December 1st
10:00am-3:00pm
Start the full day of holiday magic by browsing displays from over 30 local art vendors! These artisans and craftsmen will have holiday gifts and decor for sale from 10:00 a.m. – 3:00 p.m. The Friends of the Leland Cultural Arts Center will be offering gift wrapping services as well. The LCAC's Holiday Art Market is a FREE event!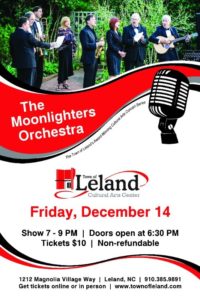 The Moonlighters Orchestra:
Friday, December 14th
7:00-9:00pm
Tickets: $10
Join the Leland Cultural Arts Center for a night filled with Big Band Music. The Moonlighters Orchestra is not your typical Big Band, they play all your favorites and add a little swing to the mix! Purchase your tickets NOW for the perfect night out this holiday season!
View LCAC's  upcoming programs, workshops & events by clicking the link below for the Town of Leland's CAPE [Cultural Arts, Parks & Events] Magazine:
Fall 2018 / Winter 2019
www.brunswickforest.com
866-831-8382