Legacy Homes Under Construction
September 21, 2022
ISWebmaster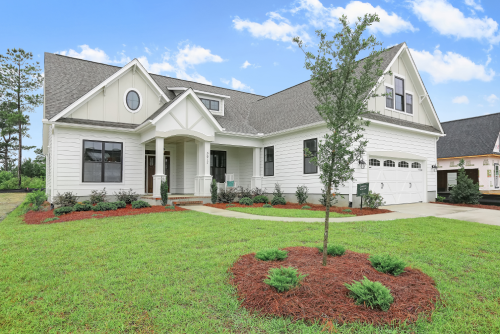 The Right Home Makes All the Difference
Legacy Homes by Bill Clark is one of Brunswick Forest's premier builders, as they specialize in building with choice materials, going the extra mile in customer service, and providing floor plans that are both spacious and beautiful. They're in the process of building a few new homes, which are available right now, and more coming soon.
Legacy Homes by Bill Clark: A Name You Can Count On
Home should be a place where you make memories, share meals, and rest after a big day. It's an oasis you should look forward to returning and be proud of when company visits. Your residence says a lot about you as a homeowner and is your most important investment. A preferred building partner, Legacy Homes by Bill Clark has been building in the Carolinas since 1977. Their experience and dedication to detail are shown in each floor plan.
Recently, Legacy Homes by Bill Clark has been working on building several more homes in Brunswick Forest. Though they are all currently under construction, they are available for purchase!
The Wells:
An excellent example of Legacy's dedication to detail, The Wells is a gorgeous home with plenty of space. Located in the Cape Fear National neighborhood of Brunswick Forest at 5127 Creswell Drive, The Wells is an open floor plan that features luxurious details like a coffered ceiling, EVP flooring, a 36" gas cooktop, an oversized island, and a formal study. When completed, this model will include an oversized great room, perfect for hosting or boarding overnight guests. Designer-curated finishes will also be noticeable throughout the home, giving it a real craftsman's touch. Here are a few other details to take note of for The Wells:
Over 2,500 square feet of living space
Two-car garage
Three bed
Three bath
With lots of space and modern furnishings, The Wells is sure to be a beautiful home when completed.

*(Picture Based on a Previous Model of The Wells)
If you're looking for a beautiful coastal home to call your own, do not delay. While under construction, The Wells homes under construction are available to purchase. Other floorplans under construction and available to purchase include The Myrtle, Custom Hazel, Custom Willow and Custom Rose. You can contact our team for information on these floorplans at 833-497-1001. Or come and tour the area yourself on one of our excellent Coastal Discovery Tours. The best years of your life are waiting for you in coastal Carolina!