LEARN HOW TO USE YOUR CELL PHONE LIKE A PRO
August 20, 2017
Katie McAlick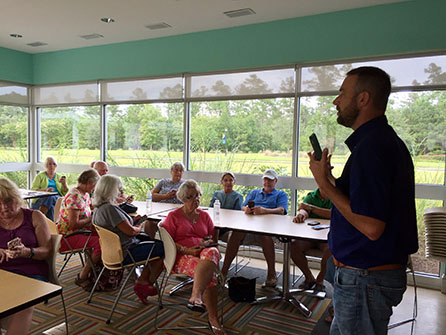 Learn the ins and outs of your smart phone at a Cell Phone Seminar! From the best battery-saving techniques to Cloud storage, unlock your phone's full potential and watch it do things you never thought possible!
Tech wiz, Steve Klem, provides his expertise at this monthly seminar, located at the Community Commons across from the Fitness & Wellness Center. According to Steve, many folks love coming to this seminar, eager to learn more about their cell phones. Some even come more than once so as to broaden their knowledge of what their devices can do!
Whether you've just purchased a brand new smart phone or tablet, or you'd like to learn more about your current smart device, this class is perfect for helping you master the Applications and Settings on your gadgets! Be sure to stop by with your tablets, smart phones, and questions about your smart devices!
From informative community sessions like the Cell Phone Seminar to events in and around Brunswick Forest, the Fitness & Wellness Center is packed with monthly activities for you to jump right into! Kayak in lakes and waterways all around North Carolina. Join a poker or mah Jong group and meet fellow Brunswick Forest residents. Even relax by the pool and take in some sun! With something for everyone, the Fitness & Wellness Center has you covered!
866-831-8289