Laugh Your Way Around Town
September 26, 2017
Beth Burgee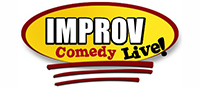 If you're in need of a good laugh or just love live comedy, check out these Brunswick Forest recommended hot spots.  The routines are sure to have you rolling!
Dead Crow Comedy Room located in Downtown Wilmington is place to be for comic relief.  They have funny fare for your consumption almost every evening — Tuesdays are Comedy BINGO Night, Wednesdays offer up Improv Night, and Thursdays are Open Mic Night for those itching to try out their comedy routine.  Stick around for the weekends as touring acts roll through.  Not only does Dead Crow have an amazing event line up, but there menu is not too shabby either!
Hang around downtown as Thalian Hall offers plays that lean towards the comedic persuasion.  Not only is Thalian a great place to catch a show and have a good laugh, but while you are there enjoy the history of one of the oldest theaters in the United States.
Want a lsugh closer to home?!  The Brunswick Forest Fitness & Wellness Center pulls traveling comedians in throughout the year for dinner, a show and a belly-aching good time!  Tune into our monthly event calendar to see who the latest act rolling through will be.
www.brunswickforest.com
888.371.2434