Kent Homes: BrightSuite Technology
October 6, 2022
ISWebmaster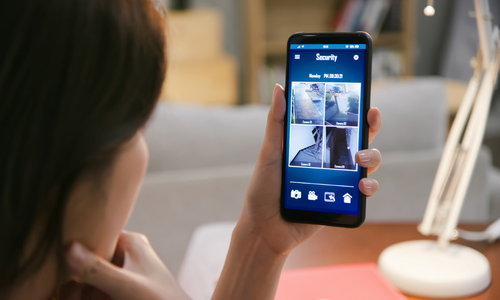 Style and Technology
A modern home combines a variety of different elements. Craftsmanship, design, and floor plan layout are all important factors in what today's homeowners are looking for. Having a home equipped with the latest technology is also considered highly desirable. Kent Homes is well-known for building homes that not only meet but also exceed the gold standard. And now, they are adding a new feature for their homes called "BrightSuite." Kent Homes is now including a base package of the Smart Touchscreen Panel, 3 Door/Window Sensors, a Smart Garage Door Opener, and a Smart Door Lock in all their homes and offers a multitude of a la carte options. Kent Homes in partnership with BrightSuite, now gives you the possibilities of endless options.
What is BrightSuite?
What is BrightSuite? BrightSuite is an all-in-one solution, letting you control your entire home in one place. We work with a consistently growing ecosystem of smart, sustainable technology to meet your changing needs. BrightSuite is a subsidiary of Dominion Energy Company that specializes in providing the best in home security and other smart home-enhancing features such as video doorbells, smart thermostats, smart light switches, window and door sensors, indoor and outdoor cameras, solar power, and EV charging systems. The advantage of using this system is that they feature a technologically advanced all-in-one system that can be controlled with the touch of a button. Every BrightSuite system can be controlled with a best-in-class app. Working with many of today's most popular and trusted products, the BrightSuite app is powered by Alarm.com which millions around the world trust and use today.
Smart Touchscreen Panel
Every BrightSuite system comes equipped with a Smart Touchscreen Panel. It comes with dedicated Cellular LTE built in and a 24-Hour Backup Battery, so your homes are always connected. Upload family photos or the latest vacation pictures, as it can be enjoyed as a photo frame when it's not being used.
One Home, One App, Working Together
BrightSuite Technology links several safety features together including:
Motion sensors
Smart Smoke & Carbon Dioxide detectors
Door/window sensors
Smart Garage Door Opener
Smart Door Locks
Monthly Security Service Plans
Simplicity is key. Every plan comes with 24/7 dedicated Cellular LTE, Live US-Based Customer Support, encrypted wireless communication and so much more.
Control Plan
Break-In Prevention
Environment & Life Safety
Smart Home Control (Lights, Locks, Thermostats, Garage, Water)
Audio & Smart Speakers
24/7 Professionally Monitored Security
Control + Video
Break-In Prevention
Environment & Life Safety
Smart Home Control (Lights, Locks, Thermostats, Garage, Water)
Audio & Smart Speakers
24/7 Professionally Monitored Security
+Cameras with A.I. People, Animal & Vehicle Detection
Additional Compatible Products:
BrightSuite works with leading brands to provide an ever-expanding ecosystem that can be seamlessly integrated together. The products below are currently compatible with BrightSuite.
Smart Lighting
Smart Water
Audio Speakers (Sonos, Siri Shortcuts on Apple iOS devices, Google Voice Assistant, Amazon/Alex Assistant)
And it's all controlled through an interactive touchscreen, so re-adjusting any of your settings is a coastal breeze.
Energy Efficient
A true hallmark of BrightSuite is that all its systems focus on enhancing energy efficiency. By equipping their homes with key features like energy efficient systems, electronic door and window locks, and other innovative security measures, Kent Homes once again raises the bar for their clientele's quality of life. Your Home, Your Day, Your Way.
Providing Peace of Mind and Ease of Use
It's important to protect your home and the valuables inside of it as a homeowner. Kent Homes and its partnership with BrightSuite help to better safeguard your property. A smart home is more than just equipping modern technology; it's about giving homeowners peace of mind and making life easier. BrightSuite is a user-friendly system created to make homeownership easier!
New Models by Kent Homes
Two brand-new models from Kent Homes that will be incorporating BrightSuite technology are the Pierre's Bay and the Coopers Bay in the Peninsula of Cape Fear National. These two new model homes will be completed here at Brunswick Forest in early 2023, these homes will be a stunning display of this new offering by Kent Homes and deserve to be toured in person. With wide open spaces, generous master and guest bedrooms, and an extra room option, these homes are truly a smarter way to a luxury home. The Pierres Bay model is currently for sale with a projected completion in early 2023.
Trusted Partnerships
Kent Homes, a trusted building partner here in Brunswick Forest, has always gone out of their way to give homeowners exactly what they need to live a good life. They take pride in providing a superior customer experience for their homeowners and offering innovative home designs built at affordable prices with the highest of standards. Kent Homes currently has a recommendation rate of 95% from their homeowners surveyed by GuildQuality. Out of nearly 2,000 eligible applicants, Kent Homes is one of only 7 new home builders in North Carolina recognized by GuildQuality for consistently delivering a superior customer experience. It's just one more way Brunswick Forest contributes to the concept of comfortable living. To see the outstanding quality in a Kent Homes product, schedule a tour of The Shelter Bay today by contacting our team at 833-497-1001.