Keep up with our Lifestyle: The Community Update at Brunswick Forest
February 24, 2020
ISWebmaster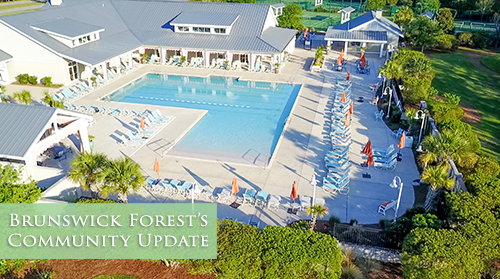 Released on a monthly basis, the Community Update is an email newsletter sent to prospective residents to keep them in the know of happenings in and around Brunswick Forest. This includes new additions to the community, local news and a calendar of events in Leland, Wilmington and surrounding areas. It's a great way to see what life is like here in Brunswick Forest. Sales events are always highlighted and have easy access links to RSVP! Below are some featured items in our February Community Update.
Spring is right around the corner and you can experience the coastal lifestyle that so many residents have been raving about by signing up for our March sales event. Come down to visit our neighborhoods, meet new friends, dine inside several of our gorgeous model homes, interact with our premier building partners and have access to all 10 of our amenities.
Learn more about Park Side Townhomes; a collection of small cottage-like homes that have big coastal character just a stone's throw away from some of our main amenities. They're perfect for those looking for low-maintenance living.
The Villages Town Center offers more. A 12,000-square-foot cidery and brewhouse is coming to Brunswick Forest. Brunswick Beer and Cider Company is the second location to sister company, Wrightsville Beach Brewery. The venue will include a brewery, cidery, onsite restaurant, bar and event space.
Coastal Integrative Health in partner with The Villages presents a Health Fair and Expo. Learn about the different ways to maintain an active lifestyle for 2020.
Mark your calendars for the month ahead. The Community Update lists all the events in Leland and Wilmington and surrounding areas that may have your interest and more. To name a few:
Feb. 13-16 East Coast Shag Classic – Holiday Inn Resort
Feb. 23 Annual Mardi Gras Celebration – Bridgewater Wines
Feb. 27 Birding in Brunswick – Town of Leland Municipal Park
Feb. 29 Wine and Beer Walk – Downtown Wilmington
Our Community Update is a great way for you to stay up to date and get a taste of what our coastal lifestyle is all about! If you have further curiosity into how you can visit Brunswick Forest and experience all this for yourself, contact us at: 855.983.9579