January 2023 Events in Wilmington
January 5, 2023
ISWebmaster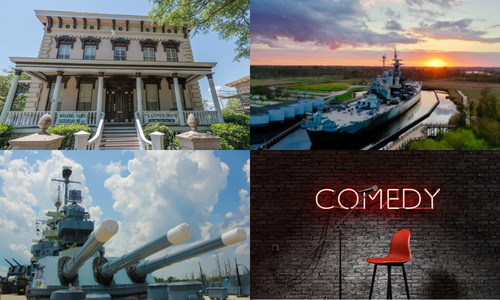 New Year, New Activities
A new year with new adventures in greater Wilmington awaits! A prime advantage of living in coastal Carolina is that there is always an adventure to be had! Be it exploring historic homes, learning about battles that shaped American history, or laughing yourself silly (continue reading to see where!), there's an adventure to be had around the Cape Fear River.
Here's What's Happening
The new year is a great time to celebrate new beginnings in the local area! Because of our naturally milder weather even during the winter season, you don't have to worry about wading your way through a waist-high snowdrift to do any activities. The greater Wilmington area is a year-round paradise that few places on the East coast can match. Here's just a taste of what's happening in January 2023!
Latimer House Night Tour
The historic Latimer Home is one of downtown Wilmington's most famous structures and attracts thousands of visitors annually. Its gorgeous Victorian construction makes it one of Wilmington's most famous historic homes even amongst other well-known landmarks like Bellamy Mansion. Now you'll have a chance to capture a unique glimpse into the colonial nightlife as it was back in the day with a fantastic night tour of the property. These tours will take place between 8 and 9 pm and will allow visitors to see what it was like to live in times without electricity or modern conveniences. It's $20 per person and will be taking place this Saturday, January 7th. These night tours are popular events, so be sure to sign up in advance by contacting them at (910) 762-0492
Anniversary of the Battle of Fort Fisher
The Battle of Fort Fisher is one of the most important turning points in the American Civil War. Here, Union forces fought to take the Confederate earthworks at Fort Fisher to stop supplies from reaching the port of Wilmington. January 14th, 2023 marks the 158th anniversary of this historic game-changing battle. Now, you can stop by Fort Fisher and witness a recreation of the events that took place by local re-enactors. There will be live musket, artillery, and cannon firings, as well as plenty of historical lectures to satiate your inner history buff! This event will be free of charge to spectators. So, be sure to have this amazing event on your bucket list.
*Photo Attributed to historcisites.nc.gov
Hidden Tour of the Battleship North Carolina
The Battleship North Carolina is one of Wilmington's greatest historical treasures. Once the mightiest vessel of the United States Pacific fleet in World War II, the battleship has sat quietly across from downtown Wilmington for many decades. Thousands of people travel from miles around to see inside this incredible ship. But what about getting a chance to see some of the unrestored areas that are exactly as sailors left them in the 1940s? These hidden tours are a way for you to see parts of the ship that are normally closed off to visitors. This is a massive four-hour tour that takes you through the bow, third deck, superstructure, and even the fire control tower at the top of the ship! It's the perfect New Year's gift to anyone who is fascinated with American military history, or maybe someone looking for an adventure. The hidden tour for January is also taking place on the 14th and will cost $60 per person!
Comedy With John Hastings
Bust a gut into the new year with comedian John Hastings! Taking place January 13th – 14th at Dead Crow Comedy Room downtown, this will be a show to help tickle your funny bone. A transplant from Canada, his humor has been featured on the likes of the BBC and The Comedy Network! General admission for this celebration of laughter starts at $18 per person.
If you're looking for a few activities to start the new year off right, consider making time for some of these fantastic events!