January 2019 Events
January 2, 2019
ISWebmaster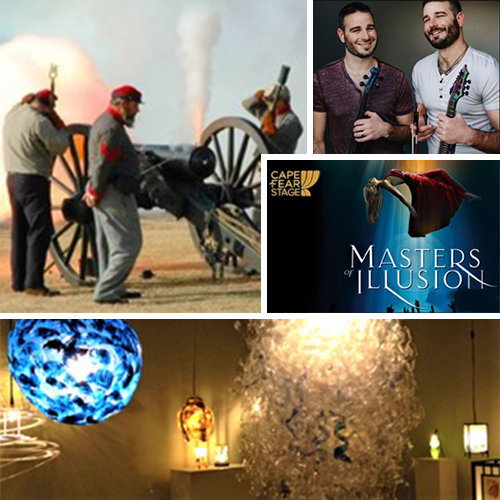 Happy New Year!  Brunswick Forest wants to take this time to personally wish you all to the year 2019!  We hope your holiday season was all that you wished it to be and more.  Even if it wasn't, we hope that the new year will offer you a fresh new look on life.  For what better way to kick off the month of January than to stay up to date with all the latest happenings in and around your local area?  From musical performances to events that remember historical value, you will find it all within reasonable reach.  Here are just a few of the events to look forward to!
January 12th will mark the official 154th anniversary of the Battle for Fort Fisher, and people from all walks of life are invited to come and learn about one of the most brutal and famous battles in American History.  Uniformed re-enactors will be on hand to answer any questions you have about the daily routines and drills that soldiers of the Fort experienced as well as their sacrifices.  Live artillery demonstrations will include the firing of several historic weapons including the site's 32-pound rifled cannon, and local photographer Henry Taylor will also be on hand to demonstrate his 1860's wet plate style photography.  From lectures to secret Civil War Communications, there is historical fun to be had for everyone down at Fort Fisher! Located at 1610 Fort Fisher Blvd South on Kure Beach, this event is free admission for all.
The Cameron Art Museum, located at 3201 S 17th St, is well known in Wilmington, NC for its dedication to artwork of all types.  From now until January 13th, Art of Illumination lets your creative intuition come alight in this dazzling display of illumination using silks, handmade paper, glass, clay, and other handmade creations from artists across America.  These creations all work to capture and magnify light in ways that you never thought possible and can be seen weekly on Sunday, Tuesday, Wednesday, Thursday, and Friday.  Admission is included with a museum entrance fee!
Abrakadabra! Magic has long dazzled the stage for many audiences all over the world.  Looking for something to satisfy your desire to see incredible illusionary tricks?  Don't miss out on witnessing the Masters of Illusion live at The Wilson Center on January 14th.  Located at 703 N Third Street, this event will keep you on the edge of your seat as some of the world's greatest magicians captivate your very eyes with optical illusions and even comedy magic!  These are no routine parlor tricks, everything you see at this event is guaranteed to dazzle you into being a believer in magic.  Tickets will start at $25 dollars per person.
Brunswick Forest loves to remind our residents and visiting guests to support the local scene, and that's why you most definitely don't want to miss out on this incredible duo right here in the Leland area.  On January 18th the famed Synergy Twins Duo will be performing locally at the Leland Cultural Arts Center!  This famous violinist pair is well known for their unique fusion of classical music and modern rock.  Well known to music lovers of all types, both musicians been featured on the likes of the TODAY show.  Looking to start 2019 with a bang? Then there is no way you should miss on this electrifying performance right here in Leland.  Tickets start at $10 a person, and LCAC's 2019 VIP tickets are valid for this event as well.
Whether you're looking to simply bide your time, learn about history, or looking to gear up for a spectacular show, there is always something grand happening down South near Brunswick Forest.  Because when it comes to helping you make memories that'll last a lifetime, we're here to keep you updated!
23095
false
true
true
false
true
true
false
auto
false
ease-in-out
300
auto
false
0
true
false
%curr% of %total%
More Happenings Below:
MAMA MIA!
December 30, 2018 – January 19, 2019
Recurring weekly on Sunday, Friday, Saturday
Thalian Hall Center for Performing Arts
310 Chestnut Street
Wilmington, NC 28401
(910) 632-2285
Leland Cultural Art Center's Student Opening Reception
Thursday January 10, 2019
6:00pm to 8:00pm
Leland Cultural Arts Center
1212 Magnolia Village Way Leland, NC 2845
(910) 385-9891
Jazz at the CAM
January 10, 2019
6:30 PM to 8:00 PM
Cameron Art Museum
3201 South 17th Street
Wilmington, NC 28412
DINNER THEATER: SENIOR MOMENTS 2: GETTING BETTA
January 18, 2019 – February 16, 2019
Recurring weekly on Friday, Saturday
TheatreNOW
19 South 10th Street
Wilmington, NC 28401
(910) 399-3669
JULIA SWEENEY: OLDER & WIDER
January 18, 2019 – January 19, 2019
Recurring daily
Dead Crow Comedy Room
265 N Front Street
Wilmington, NC 28401
(910) 399-1492
COMEDY: RONDELL SHERIDAN
January 19, 2019
Thalian Hall Center for Performing Arts
310 Chestnut Street
Wilmington, NC 28401
(910) 632-2285
NORTH CAROLINA AZALEA FESTIVAL: CHEFS' SHOWCASE
January 19, 2019
Hotel Ballast, Tapestry Collection by Hilton
301 North Water Street
Wilmington, NC 28403
(910) 794-4650
ENCORE WINTER RESTAURANT WEEK
January 23, 2019 – February 3, 2019
Recurring daily
Historic Downtown Wilmington and Carolina Beach and Wilmington
Wilmington, NC 28401
(910) 791-0688
Edward Teach Brewing Co Presents: Karl Denson's Tiny Universe
Wednesday, Jan 23, 2019 Doors @ 6:00 p.m. Show @ 7:00 p.m.
LOCATION: Brooklyn Arts Center – 516 N. 4th Street
JAMES GREGORY: "THE FUNNIEST MAN IN AMERICA!"
January 25, 2019
Thalian Hall Center for Performing Arts
310 Chestnut Street
Wilmington, NC 28401
(910) 632-2285
PATTI LABELLE IN CONCERT
January 25, 2019
The Wilson Center
703 N Third Street
Wilmington, NC 28401
Arlo Guthrie
Wednesday, Jan 30, 2019 8:00 p.m.
LOCATION: Wilson Humanities and Fine Arts Center – 703 N. 3rd St.
NC JAZZ FESTIVAL
January 31, 2019 – February 2, 2019
Recurring daily
Hotel Ballast, Tapestry Collection by Hilston
301 Water Street
Wilmington, NC 28401
(910) 793-1111