Irish Hooley and St. Patrick's Day Parade
February 22, 2023
ISWebmaster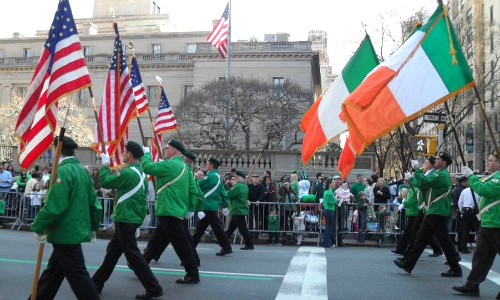 St. Patrick's Day Coming Up Fast
Saint Patrick's Day is on March 17th! Saint Patrick's Day remains the biggest celebration of Irish culture in America. This celebration is more than drinks and merriment, however; for many people, it's a great way to honor Irish-American heritage with family and friends (even if you're not Irish!). Brunswick Forest residents, Cary and Mimi Shaffer, are going above and beyond by being on the board of the local Irish Hooley and St. Patrick's Day Parade.
Community as One
Celebrations are about bringing the community together as one. They're fun opportunities to experience other cultures while spending time with friends and family. Traditionally, St. Patrick's Day is the Irish celebration of the arrival of Christianity in Ireland. Legend says that Saint Patrick taught others the Trinity through the three leaves of the Shamrock. Nowadays, St. Patrick's Day has expanded to a general celebration of Irish culture!
Meet Cary and Mimi Shaffer
While one might see big cities like Boston as being epicenters of Irish heritage and celebrations, the greater Wilmington area is known for one of the best Hooleys and St. Patrick's Day parades! Each year, a counsel gets together and helps plan these two special events. At the forefront of 2023's Hooley and Parade are Brunswick Forest residents Cary and Mimi Shaffer! Originally from Florida, Cary and Mimi first discovered Coastal Carolina and Brunswick Forest through friends, "We moved from the Tampa, Florida area. We were told about Brunswick Forest through some friends who discovered it, looked at the development, and knew it was for us. We looked at many home plans and found the home we wanted to build. It all fell in place for our lifestyle." Since then, they have become proud Brunswick Forest residents.
As a family who come from an Irish background, they found volunteering for the Hooley and parade a natural fit. However, you don't have to be Irish to volunteer! For Cary and Mimi, their reasons for volunteering went deeper, "We would like to involve the community in these Irish traditions by having family events with lots of fun and entertainment."
An Irish Hooley
So, what is an Irish Hooley? An Irish Hooley means "party," and involves people dancing to traditional Irish music. It's an occasion for neighbors, friends, and family to come together and have a great time. The Hooley taking place in Wilmington this year is sure to shamrock and roll, with musical acts and plenty of dancing. Cary speaks a little further on the type of entertainment you'll find there this year, "The Irish entertainment with the band 'Banna' from Greensboro, an Irish band, and the Irish dancing entertains people of all ages. There will be two Irish Choral groups and of course the favorite Irish bagpipes. There will be numerous food trucks including Irish food from the Harp and ice cream from the Celtic Creamery truck. The other food trucks will include Wheelz Pizza and Platypus and Gnome," she says. According to Cary, last year's Hooley attracted anywhere from 1,200 – 1,300 people! "We have a good turnout from Brunswick Forest residents at the Hooley!"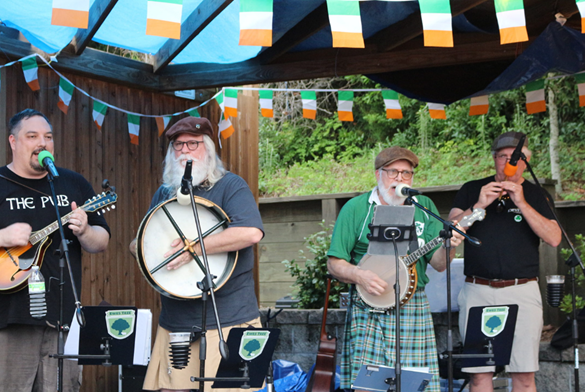 *Photo Attributed to Wilmingtonpatricksdayfestival.com
The St. Patrick's Day Parade
Though the event was canceled last year due to weather, the St. Patrick's Day Parade is shaping up to be one to remember. In past iterations, the parade has attracted up to 5,000 spectators and is considered one of the largest in the southeast. Held on the streets of downtown Wilmington, the festival will include dancing, costumes, music, and so much green you'll feel like you've been transported to the shores of Ireland. The parade itself is one of Cary and Mimi's personal favorites, "The parade will include bands, Leland and Wilmington businesses, and many Irish themes. We love this as everyone loves a parade and it involves all ages."
Free and Open to Everyone
The best part is that both events are free of charge, and you don't need to have an Irish heritage to get out there and enjoy it. Cary makes it clear that "This is not for Irish heritage people only. It's all about fun, experiencing some Irish culture, and enjoying events for families that include the entire area. Everyone loves the music and refreshments. There will be a special beer being served, Hooley Red, that Waterline Brewery has brewed for this event. Between the food and the dancing, everyone loves a good Hooley and parade."
Family, friends, music, food, and having fun together are more valuable than any pot of gold. If you're looking for a lucky charm, be sure to check out these amazing events and join in the fun! The parade and Hooley will be taking place on March 11th at 11 am. You can find all the information you need at https://www.wilmingtonparade.com/