Introducing: Collingwood Towns
January 12, 2023
ISWebmaster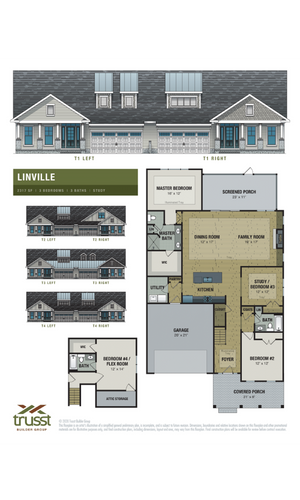 Introducing The Collingwood Towns at Cape Fear National
Townhomes are a popular alternative for aspiring homeowners looking for flexibility and space than a condominium, while offering convenience and a low maintenance lifestyle. Constructed by our building partner, Trusst Builder Group, our new Collingwood Towns at Brunswick Forest, located at our Cape Fear National Golf Course are sure to catch your eye.
Advantages of a Townhome
Townhomes are just as versatile as any full-sized home but offer a better option for those requiring less space. These brand-new homes provide the standard square footage you would find in a stand-alone home, with a sense of community and safety.  Trusst Builder Group is offering a great blend of useability and aesthetic beauty in their Plum Island II and Linville floor plans.
Advantages of owning a townhome include:
Less Upkeep
Convenient Locations
No Lawn Maintenance Required
Added Security
The Plum Island and Linville
The Plum Island II and Linville floor plans that will make up Collingwood Towns have already begun construction. There will be a total of only 34 units and offer homeowners a truly ideal location right near several Brunswick Forest amenities. At Collingwood Towns, you'll be just a short walk from the golf course and restaurant at Cape Fear National, and the pickleball courts – a resident favorite.  Reflections at Brunswick Forest is just a short drive away, our newest amenity which includes a pool and cardio center. These townhomes are complete with modern spacious floorplans and come in a variety of blues, greens, and other coastal earthy colors. They will be the perfect place to create your forever home here in Southeastern North Carolina.
Well-Designed With You in Mind
The interior of the Plum Island II and Linville will be filled with everything needed for a comfortable and luxurious low-maintenance lifestyle. A master bedroom, guest bedroom, extra study option, storage, master bath, walk-in closets, utility area, great room, screened-in porches, and spacious garage all come standard. Landscaping for these townhomes will feature lush Bermuda sodd, mulched flower beds, plenty of natural foliage, and irrigation systems to keep everything green and vibrant. A concrete foundation will keep these homes low-maintenance, sturdy and long-lasting. Natural gas water heaters, icemakers, stainless steel sinks, and walk-in spa-styled showers are also part of the package at Collingwood Towns.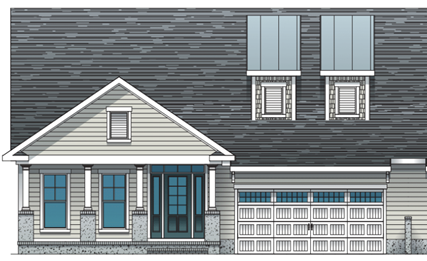 *Photo Attributed to Trusstbuildergroup.com
They'll Be Going Fast
The townhomes at Collingwood are proving to be highly desirable, and several units are already under contract with aspiring residents. These will be prime examples of what Trusst Builder Group is capable of. At a time when there is a need for townhomes and downsizing, Brunswick Forest is excited to offer a neighborhood and community where people can live out their Coastal by Nature® lifestyles. If you're looking for more information regarding Collingwood Towns, you can contact our team at 833-497-1001