Introducing Adam Clark: Head Golf Professional at Cape Fear National
October 22, 2016
Beth Burgee
If you are a regular up at Cape Fear National, then you know the Brunswick Forest Head Golf Professional, Adam Clark! But you may not know his journey to golf or what drew him here to Brunswick Forest. For as long as he can remember, Adam has always been involved in the highly-exacting sport.  "The level of concentration and commitment that the game commands requires devoted lovers and hours to the game. While golf is one of the most challenging sports, it is also unbelievably rewarding," according to Clark.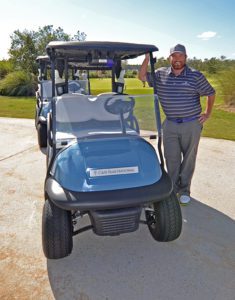 GOLF: COMPETITIVE, BUT SOCIALLY REWARDING
Alongside its competitive nature, golf also highlights an unmatchable sense of community. "Being able to take time out of your day to step on the course with friends and neighbors is a rewarding feeling. While highly competitive and even tedious, golf is still a wonderful way to create memories with friends and family," says Clark.
JOIN IN THE FUN AT CAPE FEAR NATIONAL
Built on the foundation of involvement and community at Brunswick Forest, golf at Cape Fear National aims to teach and assist golfers of all levels. Whether you have been playing for years, like Adam, or you are just starting out, there is a place for you at Cape Fear National. So join Adam Clark and his team at the course for lessons, clinics, tournaments or a just a day of fun with your golf buddies!
888.371.2434
www.BrunswickForest.com