INTERIOR DESIGN TRENDS–TILE GOES BEYOND BASIC
July 28, 2014
Brunswick Forest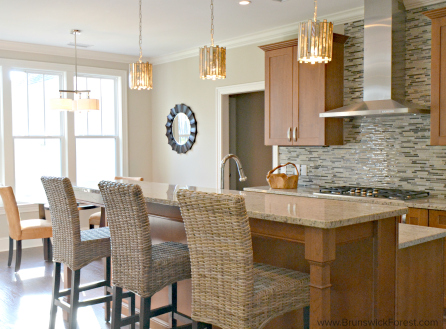 At Brunswick Forest, we have a carefully-selected team of builders who incorporate the latest interior design trends in to their homes. Whether you are looking for a classic home with traditional elements or something with all of the latest styles, we are able to work with you to create the home of your dreams!
Tile is one of the most versatile materials you can put in a home. With so many colors and types of tile available, the interior design possibilities are endless! Here are some of latest trends in tile that have been used in homes in Brunswick Forest.
MOSAIC TILE
Mosaic tile can be found in a variety of materials–usually glass or stone–and is commonly used in showers and backsplashes. Use mosaic tile to add a pop of color to your room or as a beautiful, decorative accent.
METALLICS
Metallic tile is a wonderful choice if you are going for a sleek, contemporary look in your kitchen. Stainless steel is perhaps the most popular finish along with copper and bronze. Metallics are timeless and can easily be paired with a variety of colors and designs.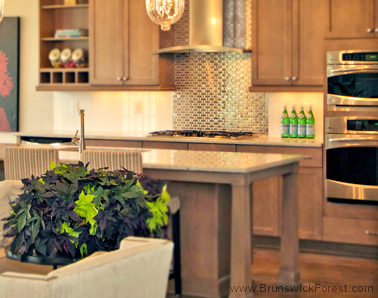 SUBWAY TILE
Classic, white subway tile never goes out of style for use in bathrooms, showers and kitchen backsplashes. Switch it up with different shades of tile and grout for a distinctive look.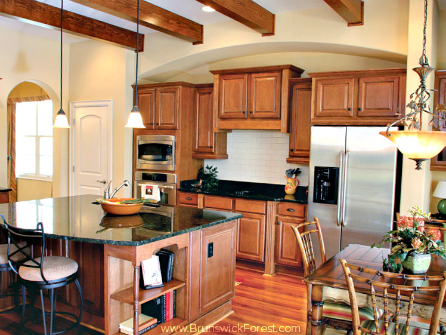 PATIO TILE
When choosing an outdoor tile, you want to pick something that is durable, will withstand extreme changes in temperature and that will not become slippery when wet. Porcelain, and solid stone tiles are a great choice for outdoor patios because of their low water-absorption rate. You want something that will not hold on to water to avoid cracks in the wintertime as temperatures dip below freezing at night.
Choose something with a slightly abrasive surface area, so that it will have more traction when the flooring is wet. In this Ideal Living home, wood-grain tile was used to give the patio the warm feel of natural wood with the durability of porcelain.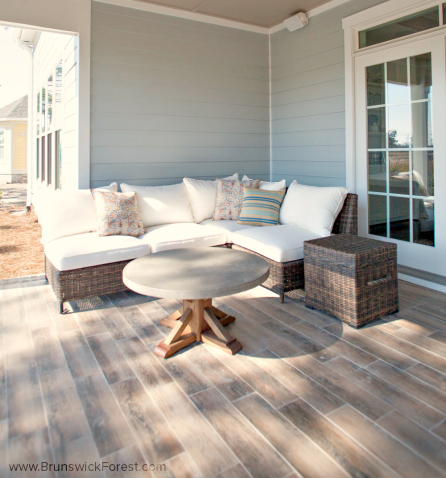 888.371.2434
www.BrunswickForest.com