Interior Design Tips for Spring!
February 14, 2019
ISWebmaster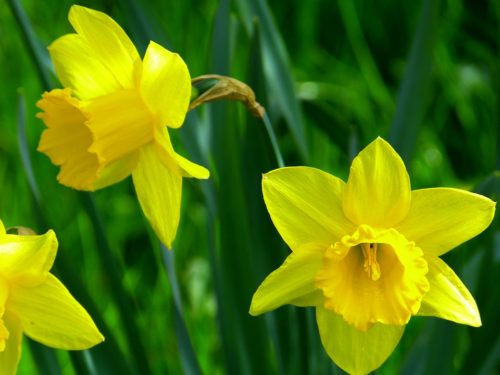 The time for Spring cleaning is nearly here! Could your home use some updating or a full redesign? Brunswick Forest's interior designer, Lynn Crawford, shares her master decorating tips to help bring your home décor up to speed.
Lynn notes that one of the easiest ways to start perking up your living space for the season, is to introduce spring flowers to key areas inside your home. Certain flowers like Hyacinths, Primroses and Daffodils make a beautiful addition to your interior space. They can easily be purchased in local grocery stores and nurseries. You can even take the plastic pots that these flowers come in and, without removing them, quickly slip them in nicer looking containers. A simple change of potting décor is all it takes to bring a bit of that spring vibe into every room.
The centralized location of Brunswick Forest means that materials to work with are never far away, but a clever interior decorator will make use of what they already have in their yard! "If you have spring-flowering trees and bushes, like Pussy Willow, Forsythia, Redbud, and Cherry in your yard, cut a few branches off and put them in vases filled with water. Within a few days, their flowers will begin to open," Lynn explains.
Many popular home décor magazines highlight how changing interior color schemes can make your home seem more seasonal. For a fresh new look that's easy to achieve, Lynn says that you can switch out dark rugs with a natural, sisal rug. Adding lightly colored slipcovers to upholstered furniture will do a lot in adding brightness to an entire room as well. Experiment with swapping out dark colored items with bright or pastel themed colors. If it works, store the dark patterns away until Autumn rolls around again!
Too much clutter in the house can easily make a room feel stuffy. By de-cluttering your home, you can add more space to create a brighter atmosphere. "Remove the accessories that you don't love by looking at them with a critical eye. You will then have more room to add fresh flowers and other seasonal accessories." Lynn says, "add a basket of ferns to your porch and entryways, and a spring wreath to the front door."
These tips offer a simple yet perfect way to welcome the Spring season into your home! Best of all, these tips don't have to be outlandishly expensive. Get inspired and make your home the talk of the neighborhood.