Inside Reflections at Brunswick Forest
January 18, 2022
ISWebmaster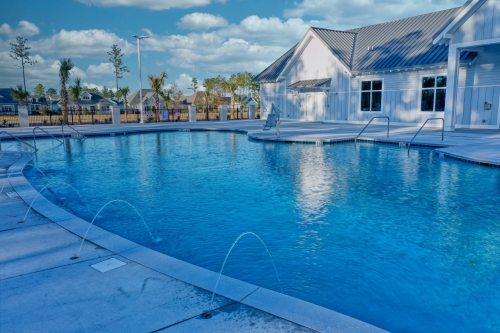 A New Addition with Even More Options:
From walking your dog in Annsdale Park to working on your cardio routine in our Fitness and Wellness Center, we have what you need to be healthful. One of the most exciting elements to look forward to this year is Reflections at Brunswick Forest. This secondary fitness facility is filled with a variety of high-tech equipment and an amazing beach access, saltwater pool. The new amenity is so close to being ready, and we want to give you a sneak peek inside this amazing building.
Building a Better Life for Residents:
At Brunswick Forest, we want to give our residents the tools they need to achieve the ideal active lifestyle they want. One way we can do this is through our amenities. From tennis to cardio routines, you can find something to fit your passions and meld that into your active lifestyle. Our Fitness and Wellness Center is by far one of the most popular of our amenities. The building itself is in a central area and provides homeowners with a staffed place to work on their fitness, a place to swim, and even classes.
A New Place to Shape a Better You:
For those residents who are looking for a place to condition their bodies for the new year that's a bit quieter but still state of the art, we have Reflections at Brunswick Forest. This latest addition to our community is going to be a peaceful retreat with gorgeous tropical landscaping, a resort-style saltwater pool, gorgeous and spacious interiors, and of course the latest in cardio and strength enhancing equipment!
Well-Equipped For Your Convenience:
With over 20 magnificent green palms surrounding the entire complex, you'll feel you ended up at a coastal oasis, especially around the pool area during the summer. When you walk in Reflections, you'll be greeted by high ceilings and tasteful wood floors. Reflections is quite spacious and can easily accommodate dozens of residents. The fitness room has plenty of barbells and dumbbells, elliptical bikes, and treadmills to work all parts of your body. Whether you like a traditional workout or something more high-tech there's a lot to like here.
First-Rate Changing Areas:
Reflections has sizeable rooms with over three sinks, several stalls, and a separate locker room where you can store your workout gear! And if you want to freshen up after your workout, there are also showers as well. You will also find a large open space that's perfect for either fitness classes. There's lots of floor space, providing versatile utility.
A Resort-Style Swimming Area:
The pool is just simply stunning. Gently sloping edges and handicap access make this a pool that can be used by everyone regardless of age. Custom water jets can shoot up from the decking to entertain the kids, and there's enough space for you to either float lazily in the Southern sun or swim laps.
Coming Very Soon:
Now you can see for yourself why our team and residents are so excited for this latest addition to our community! It's only a matter of time before the doors open, so get your gym bag ready. This facility is bound to be a hit at Brunswick Forest. If you have any further questions about Reflections, you can contact our team at 833-497-1001.