House of Pickleball Set to Open in Mid July!
June 28, 2018
Beth Burgee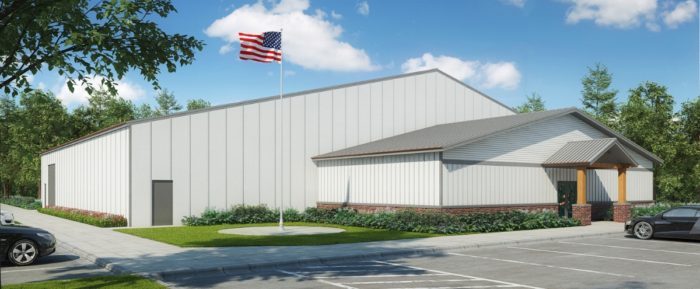 The highly anticipated House of Pickleball is in its final stages of construction before opening its doors in mid-July.
Two years in the making, this World Class pickleball facility is set to offer a climate controlled space with 6 courts that have been upgraded with rubberized cushioning, lighting that is even across all courts, outdoor permanent style nets, and pickleball only lines on the courts.  The House of Pickleball facility (HOP) is privately owned, but is a public facility that will be dedicated to the game of pickleball.
Located just outside of The Villages at Brunswick Forest, our community is extremely excited to see this project come to life. The House of Pickleball is the third facility of it's type to be built in the United States, and the first that offers structured and un-structured types of play. The Brunswick Forest Pickleball Club is the most popular club within the community and currently has over 450 active members. Opening an indoor, climate controlled facility allows players the opportunity for year-round play while still being close to home! The focus will be on social play, but HOP plans to be host to leagues, tournaments and other competitive play as well.
HOP will be open to the public for a standard drop-in rate, but memberships are available for those that plan to use the facility regularly.
Whether you're new to the world of pickleball, or you've been playing for years, the House of Pickleball offers opportunities for all levels of play. Structured events such as Round Robins and Ladders will take place throughout the week, as well as un-structured events such as Drop-in play based on skill levels.
Once the doors have officially opened, HOP will kick off their first Team League Play by level. This 4-week league has room for up to 400 players.
"We're currently at about 300 players for our first introductory league at HOP. We have folks coming in from as far south as Myrtle Beach, but most players are from the local area," says Glenda Pfister, one of the 5 IPTPA certified instructors at the new facility. There is an additional 4 other instructors that will soon be receiving their certified instructor license through USAPA.
Offering pickleball classes throughout the week, instructors are able to teach beginners the basics of the sport, as well as refine the skills and knowledge for those looking to elevate their pickleball game.
Looking for more info on the House of Pickleball? Their website is active and offers tons of insight and information on the new facility and how to become a member of the growing HOP pickleball family.
www.BrunswickForest.com
866-831-8289