HOP into a Coastal Discovery Package
March 29, 2019
ISWebmaster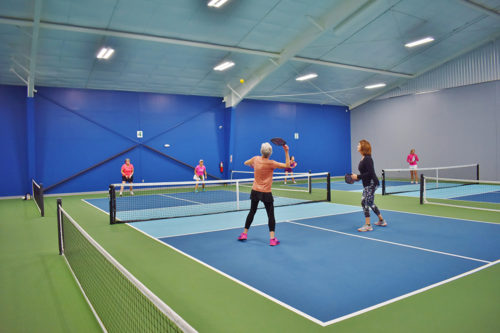 People are quickly becoming infatuated with the incredibly fun activity known as pickleball! Pickleball is easy to learn, can be played in a variety of ways and is appealing to all age groups. Brunswick Forest has seen pickleball explode over the years to become one of our most enjoyed amenities, and no place allows you to enjoy pickleball better than The House of Pickleball.
Curious about what the experience at HOP is like? Brunswick Forest is proud to hook you up with the perfect opportunity! Due to the game's amazing popularity here in Southeastern North Carolina, our Coastal Discovery Package will now include the option to visit the HOP for an Intro, Teach and Play session. You will receive personal instruction on learning the basics of the game, from experienced and passionate advocates of the game. After learning, (or warming up for you experienced players), get your game on and see for yourself just how fun and challenging pickleball can be. Just like the rest of the activities in the Coastal Discovery Package, the experience at the HOP is all included.
Located just down the road from Brunswick Forest, the HOP is the ultimate pickleball facility. There's only one place like it in the entire country, and that's right here in Leland, North Carolina. Featuring no less than six pickleball courts, rubberized floors and a climate-controlled interior, the HOP is the place to be for any pickleball enthusiast. With twelve hours of straight up pickleball available to all levels of play, it's a great way to spend your day!
This facility is a great way to meet new friends or to add another activity to your goal of an active lifestyle. If you don't have your own gear, the HOP will have all your needs covered while you're here for the Coastal Discovery Package.
Since pickleball is one of the most popular activities for residents at Brunswick Forest, the HOP is a great addition to our outdoor courts at the Fitness Center and Cape Fear National. For those seeking to be sheltered from the elements year-round, the HOP is the place to be.
The HOP is a phenomenal place to enjoy an addicting and healthy activity, and Brunswick Forest is proud to give its residents easy access to all of it. Will you be the next pickleball enthusiast in your family? We encourage you to stop by the HOP and find out for yourself!