HOP Happenings January, 2019
January 3, 2019
ISWebmaster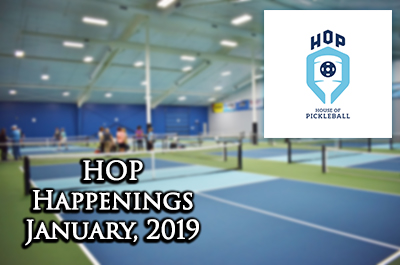 Nothing like a fresh new year to start things off with a bang!  We don't just mean fireworks either.  Here at Brunswick Forest, we're all about keeping you in the know regarding events in and around your community.  Just like the water that we live so close to, the ebb and flow of life down South is constantly flowing.  There is always something going on in your local area.  Looking to stay active and have a good time? Here are some of the awesome House of Pickleball events going on within the month of January!
Being an active lifestyle centered community, Brunswick Forest offers plenty of activities that you can engage in all year long. By far one of the most popular activities that we see is pickleball.  Have you ever found yourself looking to play pickleball but want a place you can use year-round?  Look no further than the official House of Pickleball!  Located within easy reach from our neighborhoods, the HOP is the ultimate local pickleball facility with indoor courts and climate-controlled comfort.  From January 18-20 you can learn to play pickleball from 2 of the top female pickleball players in the world!  Both Corrine Carr and Simone Jardin will be on hand to teach you everything you need to get your head in the game. In addition, these two world-class players will also be accompanied by HOP's very own Jesse Simon!  When improving your game is all you have on the brain, then you could ask for no better opportunity to get the best pointers possible.  Really want to see what pickleball is like when played by the pros?  Feel free to check out the public exhibition match between Corrine and Simone that will also take place the same weekend!
The second event at the HOP is one that will be sure to get you out and about for a great time for a good cause.  Dink for Pink will be taking place January 23-27 and is a nonprofit dedicated to those diagnosed with breast cancer.  All proceeds from the tickets purchased will go towards benefiting Lump to Laughter.  Wednesday 1/23 and Thursday 1/24 will be for players ranging from 2.5-3.5 level play.  There won't be any play on Friday, but there will be a big fundraising dinner and raffle event hosted at 1224 Magnolia Village Way in Leland!  Tickets for this wonderful evening can be purchased by contacting HOP directly.  The weekend rounds out strong with opportunity for pickleball play on Saturday 1/26 and Sunday 1/27 and will be for players ranging from a 4.0-5.0 level play.
Instead of letting the January weather blues get you down, take up an activity that you can play indoor year-round! For any additional information or questions regarding the events at HOP contact them at (910) 253-7780 or email them here at thehop115@gmail.com