HOME DESIGN FAVORITE: THE LANAI!
January 4, 2013
Brunswick Forest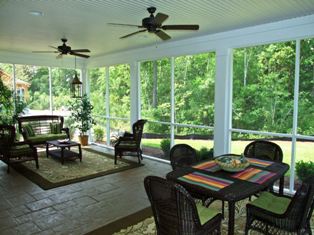 Many gather over a cup of coffee in the kitchen and some of us like to lounge on the sofa in the living room, but for many of the residents in Brunswick Forest the lanai is the most coveted spot in the house.
A lanai simply put is a porch or veranda that serves as an extension of the home. A lanai is usually a sought after upgrade, but for those in Brunswick Forest it is an included feature that accents the home beautifully by adding an additional room that can be used year-round to enjoy the mild Southeast NC weather!
Whether your ideal lanai consists of a plush comfortable seating area, room to play cards with friends, or just a quiet and peaceful place to read; the homes at Brunswick Forest are sure to provide just what you are looking for!
Check out these floor plans that feature the popular lanai and all are available for you today!
Edenhouse Villas in Evangeline
Heron in Park Landing
Lanai II in Park Landing
Lexington II in Cape Fear National
Overlook in Cape Fear National
St. Augustine in Ashwood
888.371.2434