Holiday Toy Drive for Brunswick Family Assistance
November 29, 2018
Beth Burgee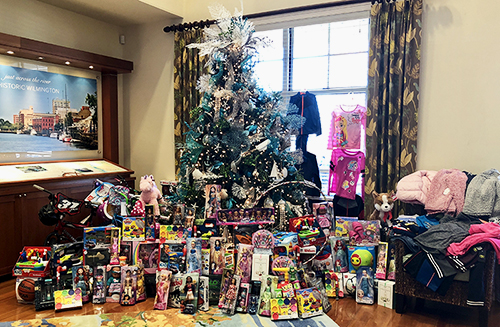 "When we give cheerfully and accept gratefully, everyone is blessed" -Maya Angelou 
The holiday season is upon us and while we are busy buying gifts for our loved ones, take the time to think about those of us who are less fortunate. It is the perfect time of year to reflect on all of our blessings and see how special giving back can be if you are able.
For the second year in a row, we are partnering with Brunswick Family Assistance and hosting a toy drive at Brunswick Forest's Welcome Center. Brunswick Family Assistance is a private non-profit 501(c) (3) organization now in their 35th year of operation. Focusing on their mission statement in every fundraiser, event and specialty program offered; they are dedicated to improving the lives of families and individuals in crisis in Brunswick County, who are willing to help themselves, by providing emergency assistance and educational and skills development programs.
The outpouring of generosity, support, and love we see each year from our community through our toy drive is what inspires us to give back each year. Donations are already pouring in, and we cannot express our gratitude to each and every person who is able to donate. We are collecting toys, sports equipment, clothing, etc. for children of all ages, including teenagers! If you would like to donate, please come by the Welcome Center at Brunswick Forest to drop off any new or unused toys. Brunswick Forest has also been collecting non-perishable food and household items for donation to the local community via Brunswick Family Assistance. These donations will be distributed in conjunction with the gift contributions to those in need. The deadline for donations is December 7th.
Interested to hear more about Brunswick Family Assistance?
If you would like to learn more about Brunswick Family Assistance and are interested in other ways you can help check out their website for more information on upcoming volunteer opportunities, different ways to donate and ongoing fundraising events in the community.