Holiday Shopping in Your Local Area
December 16, 2019
ISWebmaster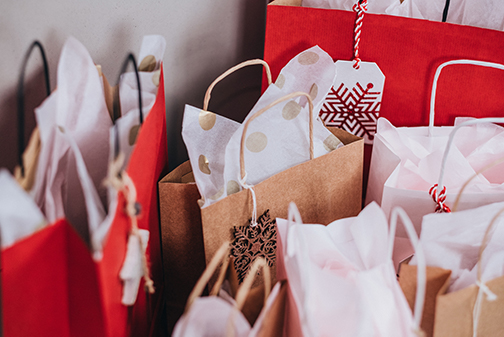 It's that special time of year where everyone is scrambling to buy the perfect gift for those close to them! As the years fly by, it can be tricky trying to figure out what gift someone wants and where to find it. While online shopping is undoubtedly a great asset during the holidays, Brunswick Forest residents also have the advantage of being situated near some of the best local shopping areas in Southeastern North Carolina!
Sometimes, you just don't have time to wait for Santa to put a gift under the tree on Christmas morning. Holiday shopping takes a little know-how and planning to be done right. Convenience is a major part of the lifestyle you acquire living in a master-planned community like Brunswick Forest. Between Leland, downtown Wilmington, Southport and many other local areas, there's plenty of shopping opportunities. One of the easiest areas you can access for a little holiday shopping is The Villages Town Center at Brunswick Forest. Just inside the entrance of our community is a 500,000 square-foot shopper's paradise that gives you just about every advantage you need to get ahead for the holidays! Lowes Foods is a great place to stock up on food, snacks and beverages for even the largest of Christmas get-togethers. Maybe someone special could use a new pair of shades from Swell Vision Center, or perhaps a fresh pair of shoes to help them look their best from The Shoe Center! A gift certificate from Hollywood Nails and Spa could give someone that long-awaited day of pampering. The Villages at Brunswick Forest has everything close to home, taking away from much of the traveling hassle in your shopping routine.
Looking for a more boutique style of shopping for the holidays? You can't get better than the wonderful galleries and shops over at The Cotton Exchange in downtown Wilmington. Originally used as a cotton processing building, this historic structure now serves as an area for more than 20 eclectic shops for you to choose a gift from! In this building you'll have easy access to several stores including Top Toad, Port City Pottery & Fine Crafts, Emory's Crystals, Down to Earth, Coastal Paws and Cape Fear Footwear! To make your outing even more enjoyable, there are several cafes and restaurants where you can relax. These include Java Dog, The German Café, Paddy's Hollow and The Basics. One peek inside of The Cotton Exchange and you'll see for yourself why it's been a Wilmington hot spot for many years.
There's plenty of other shopping options nearby in the town of Leland just outside Brunswick Forest, if you need to cross off more from your shopping list. The Sandalwood Shoppes has a massive variety, with over 50 shops for you to choose from for your holiday escapades. The Sandalwood Shoppes are locally owned, and have everything from artisanal soaps and crafts, art, children's clothes, cosmetics and other unique giftable items! For those looking for even more shopping options without going too far from home, Sandalwood Shoppes are your one stop destination!
Whether inside or outside the perimeter of Brunswick Forest, you have a lot of excellent options for getting everyone crossed off your Christmas shopping list. Headache-free convenience is all a part of the Brunswick Forest way of living. For other great shopping destinations, you can also check out: