Holiday Road Trip Destinations In North Carolina
December 18, 2019
ISWebmaster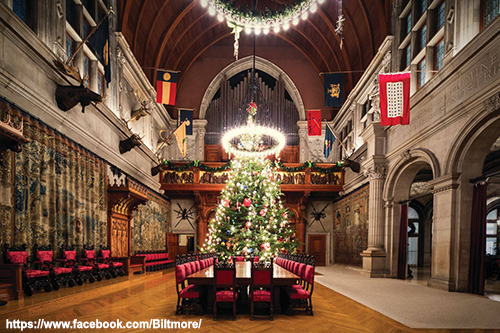 "On the road again, it feels so great to be on the road again." The holiday season means many people will be loading up their vehicles with gas, suitcases and items, then heading off on some great adventure. You may be heading out to visit friends or family, or maybe just having company visit you right here at Brunswick Forest. If you're one for adventure, there's plenty of incredible holiday attractions all around North Carolina that you should consider putting on your bucket list.
The Biltmore Estate has stood proudly since 1895 and has captivated crowds from across the country with its fanciful chateaux style façade. A true visionary, George Washington Vanderbilt II built this massive estate just outside Asheville, North Carolina after falling in love with the picturesque Blue Ridge Mountains. Vanderbilt's policy for the Biltmore Estate was that it would always be used as a getaway for friends and family. Several decades after his family owned the home, Vanderbilt's warm hospitality still lives on during the Christmas holiday for thousands of guests!
Each holiday season, the Biltmore Estate is transformed into a brilliant winter wonderland and has done so for over 120 years. Running from November 1st to January 5th, the Biltmore estate will feature incredible decorations, towering Christmas trees, live music and evening celebrations by candlelight just like the old days. More than 55 hand decorated Christmas trees will adorn the estate, with the centerpiece being a 35-foot Fraser fir in the grand banquet hall. There will be holiday blooms in the gardens, and an illumination display at nearby Antler Hill Village to commemorate the Christmas wine being made at the Biltmore Winery. The experience at Biltmore is a self-guided tour and promises to be a holiday spectacle that carries the same charm as when the Vanderbilt's welcomed their first guests. Biltmore Estate is truly a gift that keeps on giving to the state of North Carolina.
As the capital of North Carolina, Raleigh makes for a great seasonal getaway that isn't far from the Wilmington area at all. There's plenty that can be experienced for the holiday season in this wonderful city. Raleigh is known far and wide for its excellent musical productions and live shows. Bring the magic of Christmas alight with the Carolina Ballet's rendition of Nutcracker, being held in the Duke Energy Center for the Performing Arts Center from the 15th to the 24th of December.
Lake Myra will be holding a festival of Christmas Lights for the third year in a row. Between the 20 hand-made lantern displays and floating dragon display that's over 200 feet long, it's become one of the top attractions in the triangle area.
Right outside of Raleigh in Wake Forest, you can also find the Piper's Lights attraction, which has been an annual treat for over 30 years. It's a display that spans about seven acres of land and is perfect to see for guests of all ages.
There are comedy clubs, breweries galore and opportunities to catch a hockey game for the Carolina Hurricanes at PNC Arena. If you're looking to find a holiday hotspot on your road trip list, Raleigh should make the cut!
McAdenville, North Carolina may not seem like much at first glance. However, once Christmas time rolls around, the town transforms itself into a festival of lights. Tourists call McAdenville "Christmas Town U.S.A." with good reason, as every year the town lights up with a display of over 500,000 colored lights that stretches over one mile. The town will hold an annual ceremony where local students will be the ones to turn on the switch and light up the whole town. McAdenville is one of the most popular Christmas destinations in the state, so if you're looking to spend a little time here for the holidays, be sure to plan your stay accordingly!
North Carolina is a place of awe-inspiring wonder if you know where to look! During the holiday season, entire towns and cities will change their atmosphere to create incredible road trip destinations. If you enjoy being out on the road, or just want to know what other areas are doing for the holidays, read up more about these listed locations. You can find some of the top five state holiday towns right here: https://www.tripstodiscover.com/christmas-towns-in-north-carolina/
Brunswick Forest is one master-planned community that is at the center of all the holiday action here in Southeastern North Carolina. If you'd like to learn more about our community, contact us at: 855.983.9579