Holiday Happenings
December 18, 2018
ISWebmaster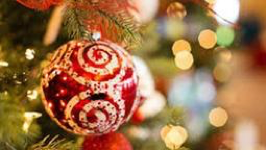 Another December week has passed, and we are all another step closer to concluding one year and beginning the next!  Down here, on the Carolina coast, there is rarely a corner that doesn't feel the hustle and bustle of the holiday season. We may not live in a huge metropolitan area, but we have our own special way of celebrating, and it all starts with honoring local traditions.  A good time is never too far away in and around the Brunswick Forest area, and there is plenty in store leading up to and beyond Christmas.  Make sure to pay attention! Here are some of the biggest events happening in the coming weeks of 2018's December!
Nothing says Christmas in Southeastern NC like Wilmington's own Festival of Trees! Long considered by locals to be one of the biggest main events for the holiday season, this year's event will take place at the NC Aquarium at Fort Fisher.  Spearheaded by Lower Cape Fear Hospice and taking place December 19th-30th, the Festival of Trees is truly a spectacle to behold. All profits made are donated to those in need of hospice care.  Every year, local businesses can put up their own uniquely themed Christmas Tree, and then all the trees are displayed in a spectacular fashion next to one another.  With the added benefit of being hosted in one of the most awesome Aquariums around, it's fun that the entire family can enjoy for hours.  Don't forget that purchasing Aquarium tickets also grants you automatic access to the Festival of Trees; there's no additional tickets to buy! It's the perfect way to get into the Holiday Spirit, with the charitable donations being the shining star on top of the occasion. Call the aquarium @ (910) 772-0500 for details!
Being down on the coast, residents of New Hanover and Brunswick County are no strangers to participating in water related activities. While it might be too chilly to swim this time of year, there's no substitute to spending the day in a boat on the water!  Make a splash in your holiday activities with Wilmington Water Tours holiday cruises and add some unique merriment to your day with cocktails and sing-along carols sung by local musicians Ron & Luis.  A Brunswick Forest favorite, The Wilmington Cat is not your ordinary Catamaran! You will enjoy your time in a fully enclosed and heated environment with comfortable seating. Catch a ride any Friday or Saturday until the end of the month as well as Sunday the 23rd and 30th.  With full US Coast Guard Licensing and all the ABC permits to have a fully working bar, up to 49 people will have one smashing time at a solid price; Adults are $20.00, and Children are $10.00.
Love the aesthetic of winter villages and toy trains?  Then these next two attractions are for you!
The Holiday Train Expo is being held at Independence Mall in Wilmington December 28th-30th with an admission of $6.00.  Held from 6-9 pm on Fridays and 1-6 pm on weekends, this exhibit is filled 32 different varieties of trains running across eight different layouts and Christmas lights galore!
Next, don't forget about the Christmas Train and Light Spectacular being held at the Wilmington Railroad Museum from December 28th-29th from 6:30-8 pm. This is an event filled to the brim with twinkling lights, trains running through a winter wonderland, model train exhibits, a visit from Santa, and cider and cookies for guests!  If you have trains on the brain, be sure to visit either!
Finally, look forward to wrapping up the old year and bidding a warm hello to 2019 with the New Year's Eve Speakeasy held on December 31st at TheatreNOW on 19 South 10th Street in Downtown Wilmington. Set for a more adult crowd, guests will take a blast back to the past with a prohibition-era style show, live music, multi-course dinner, and a champagne toast!  Showtimes are between 6:30 and 9:30 pm and admission ranges from $40.00-$170. Dress to impress and ring in the new year with style!
Nothing helps a community bond like local events, and Brunswick Forest is all about keeping residents and visitors alike in the know!  Celebrate local and make memories worth sharing all year long!