Holiday Hacks from Our Very Own Interior Designer, Lynn Crawford
December 1, 2018
Beth Burgee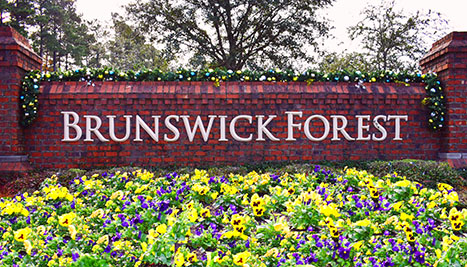 Decorating for the holidays can be a bit overwhelming for many of us and when our busy schedules don't allow for much prep time or time to shop for decorations, helpful holiday decorating tips can be a great tool. Luckily, we have our very own interior designer here at Brunswick Forest, Lynn Crawford, that has been gracious enough to share her holiday hacks so we can get inspired this holiday season!
Outdoor Decorating Tips:
When choosing which lights you would like on your home or landscaping, make sure to always stick with lights that are all one color or the same multi-colored strands to create a unified appearance.
Often times, the bright white LED lights can create an unwelcoming look rather than a warm, inviting feel. It is usually best to stick with warmer white lights.
If you choose to have music playing along with your lights, make sure you are considerate about the volume as it should not be audible in neighboring yards.
Indoor Decorating Tips:
If your interior furnishings are mostly neutral in color, than any color scheme of holiday decorations you choose should compliment those rooms. If your color scheme has a couple of colors like blue and white, then your decor should repeat those colors with an option to introduce one additional color like green, or a metallic color- gold, silver, etc. These tips will help create a color coordinated feel in your home.
Continuing with a coordinated feel, your holiday decor should reflect your everyday style. If your home is formal and elegant, then your decorations should be. If you have a farmhouse/country chic style, your decorations should reflect that.
For your everyday decorations- consider taking some down to replace with your holiday decorations as leaving those up along with all of your holiday decor can make your home feel cluttered.
You can add artificial greenery and flowers to your chandelier to dress it up for the holidays.
If you want the warm, inviting smell, set a saucepan or orange slices, apple cider, and cinnamon sticks to simmer on the stove or in a small crock pot. It won't take long for the delicious smell to fill your home.
Candles can also create that holiday feel, but it's best to use battery-powered ones throughout your house to avoid a fire hazard. The best part about these candles is that you can place them in areas where you wouldn't normally place a candle with a real flame, like on wood, bookshelves, and in arrangements of greenery.
Be sure to check you fire extinguishers for expiration dates and have a few located throughout your house!
If you still need more holiday decorating ideas, Pinterest and Instagram are also wonderful sources to get your creative holiday juices flowing!