Holiday Flotilla
November 25, 2019
ISWebmaster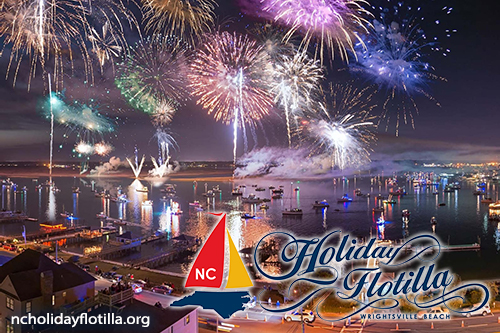 When you live in a coastal paradise, like the greater Wilmington area of North Carolina, it's almost unheard of not to consider heading to the beach for a day of fun. Even during the cooler months here at Brunswick Forest, several nearby beaches and waterways are a great option when you're looking for a good time. During the holiday season, local residents start to think of creative ways to show their festive spirit. Boat owners often decorate their vessels with an array of lights and decorations!
With Thanksgiving and the month of December fast approaching, the areas in and around Wilmington will begin to engage in several holiday traditions. The Holiday Flotilla down at Wrightsville Beach is just one of these many annual events. For residents and visitors at Brunswick Forest who haven't yet made it out to see this spectacle, we highly encourage you to witness this nautical, holiday parade.
This year, the Holiday Flotilla will be entering it's 36th annual run! Boat owners from all around the Wrightsville Beach area work hard to come up with the most creative decorative concept in their respective category. Every vessel from sailboats to powerboats will be competing to win the top prize of best in show, creating a dazzling display of light that is unlike anything you've ever seen. The Flotilla will be a fun-filled experience that people of all ages can enjoy, with a whole host of activities that will be going on all weekend long. The Flotilla route will be stretching from under the Cameron Draw Bridge, past Bluewater Grill, Dockside Restaurant, Motts Channel Seafood, Atlantic Marine's Marina, South Channel Drive Mini-Park, Island Drive Mini-Park, right by the Banks Channel Bridge, and finally the US Coast Guard Station down by the South End Jetty! To end the event on the perfect note, you can sit back and enjoy beautiful fireworks lighting up the night sky. The Flotilla can be viewed all along this well-known route.
Wrightsville Beach Holiday Flotilla
When: Saturday, November 30th at 6pm
Where: All along Wrightsville Beach and Harbor Island
Price: Viewing the Flotilla itself is free of charge
You can also attend plenty of other events coinciding alongside the main Flotilla event. Friday will involve an annual tree lighting ceremony as well as a visit from Mr. Claus himself! On Friday night there will be a pre-Flotilla party down at the Blockade Runner Hotel, featuring food and musical entertainment by the Jack Jack 180 Band! Tickets can be bought in advance at $35.00. There's a festival being held in the park that all families can enjoy on Saturday afternoon, which will be taking place prior to the actual Flotilla.
Tree Lighting Ceremony
When: Friday, November 29th, at 5:30pm – 6:30pm
Where: Wrightsville Beach
Price: Free
Flotilla Night Party
When: Friday, November 29th at 7pm -10pm
Where: Blockade Runner Resort
Price: $35 per ticket
Holiday Festival in the Park
When: Saturday, November 30th from 10am – 4pm
Where: Wrightsville Beach Park
Price: Free
The Holiday Flotilla is one of the Wilmington area's greatest attractions during November and December. It's a perfect blend of festive cheer and keeping in tradition with the boating culture, here in Southeastern North Carolina. Weigh anchor and be sure to cruise on over to the Blockade Runner, because this is one local holiday attraction that should be on everyone's bucket list.