Holiday Desserts — We're giving away some secret recipes!!
November 30, 2017
Beth Burgee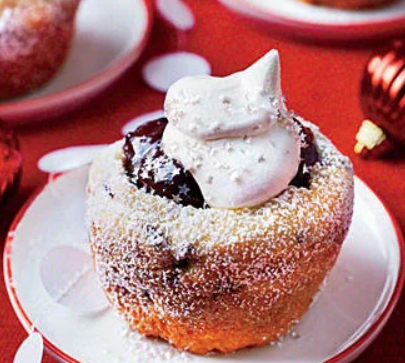 This holiday season, we wanted to spread some cheer by sharing with you THREE of our Brunswick Forest crowd-favorite desserts (recipes and all!!)  These southern-charmers are sure to bring smiling faces to those gathered around your table!
CHERRIES JUBILEE CAKES
The Secret: This recipe DAZZLES with boxed cake mix and canned cherries — Can you believe it?!  And neither will your guest!  Be sure to print this one out.
2 (14.5 oz.) cans pitted tart cherries in water
1 package white cake mix
Vegetable cooking spray
3/4 cup sugar
3 Tbsp. cornstarch
1 (12 oz) container frozen whipped topping, thawed
2 Tbsp. clear cherry brandy
Powdered sugar
Preheat oven to 350°F, drain cherries (reserving 3/4 cup of the liquid from can), coarsely chop 1/2 cup of cherries, drain well, pressing between paper towels to squeeze out excess juice.
Prepare cake mix batter according to package directions; stir chopped cherries into batter.
Lightly grease 2 (6-cup) jumbo muffin pans with cooking spray. Spoon batter into 10 muffin cups, filling two-thirds full.
Bake at 350° for 17 to 19 minutes or until a wooden pick inserted in center comes out clean. Cool completely in pans.
Meanwhile, bring remaining cherries, sugar, and reserved cherry liquid to a boil in a saucepan over medium-high heat. Reduce heat to low, and simmer, stirring constantly, 1 minute. Stir together cornstarch and 2 Tbsp. water until combined. Quickly stir cornstarch mixture into cherry mixture, and cook, stirring often, 2 minutes or until mixture begins to thicken. Remove from heat, and cool 15 minutes.
Hollow out a 2 1/2-inch hole from the top of each muffin. Top each with about 2 Tbsp. cherry mixture.
Spoon whipped topping into a medium bowl. Stir in brandy, if desired, just before serving. Dollop mixture over cakes. Serve immediately, or chill 24 hours.
*This recipe was featured in Southern Living and throughout many southern kitchens.
OOEY-GOOEY MONKEY BREAD
The Secret – Canned Buttermilk Biscuits have never tasted so good!  It's the perfect pick-a-part dessert.
2/3 cup granulated sugar
2 teaspoons cinnamon
4 cans Pillsbury™ Refrigerated Buttermilk Biscuits
10 tablespoons butter
1 cup packed brown sugar
Heat oven to 350°F. Grease or spray 12-cup fluted tube pan.
Mix granulated sugar and cinnamon in 1-gallon bag. Separate dough into biscuits; cut each in quarters (a pizza wheel works really well for this).
Shake biscuit quarters in bag to coat; place in pan. Sprinkle any extra sugar mixture over biscuits.
In 1-quart saucepan, bring butter and brown sugar to boiling over medium-high heat; boil 1 minute, stirring constantly. Pour over biscuit quarters.
Bake 30 to 45 minutes or until golden brown. Cool 5 minutes. Turn upside down; pull apart to serve.
*This recipe was straight from the kitchen of Betty Crocker and went straight into our hearts.
PECAN PIE LIKE GRANDMA USE' TO MAKE IT
The Secret – You MUST make the crust!  It's the key to any good pie and it's not as hard as it sounds.
First, whip up the pie crust: Mix the flour and salt in a bowl. Add the vegetable shortening and salted butter. Work the butter into the flour using a dough cutter until the mixture resembles tiny pebbles.
Add the egg, 5 tablespoons cold water and the white vinegar. Stir until just combined. Divide the dough in half and chill until needed. (You will only need one half for this recipe, reserve the other half for another use.)
Next make the filling: Mix the granulated sugar, brown sugar, salt, corn syrup, butter, vanilla and eggs together in a bowl.
Preheat the oven to 350 degrees F. Roll out one dough half on a lightly floured surface to fit your pie pan. Pour the pecans in the bottom of the unbaked pie shell. Pour the syrup mixture over the top. Cover the top and crust lightly/gently with foil.
Bake the pie for 30 minutes. Remove the foil, and then continue baking for 20 minutes, being careful not to burn the crust or pecans. The pie should not be overly jiggly when you remove it from the oven (though it will jiggle a bit). If it shakes a lot, cover with foil and bake for an additional 20 minute or until set. Required baking time seems to vary widely with this recipe. Sometimes it takes 50 minutes, sometimes it takes 75!
Allow to cool for several hours or overnight. Serve in thin slivers.
*Thanks to Food Network for keeping Grandma's Pecan Pie Recipe alive!
We hope your holidays are filled with love, laughter and a few sweet treats!
www.brunswickforest.com
888.371.2434