Healthy New Year's Resolutions!
December 29, 2018
ISWebmaster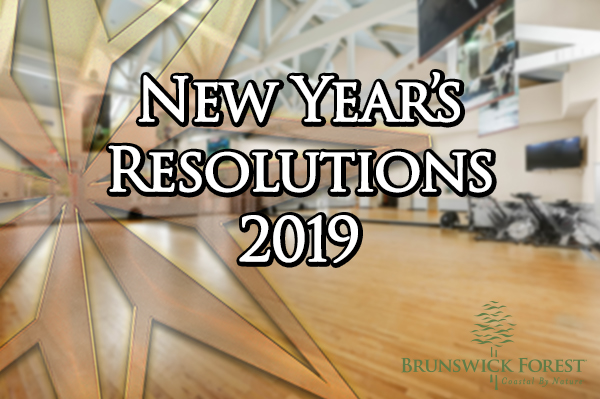 Not long from now, the chapter on 2018 will end, with 2019 taking its place.  With the prospect of a new year, comes the infamous New Years' Resolution.  You've been there, we've all been there.  Everyone wants to think of a new year and a fresh new start to reinvent themselves and to meet the goals that they couldn't the previous year.  Unsurprisingly, of the biggest goals for most people after the holidays is to a healthier version of themselves.  With such a daunting task, right after all the eggnog and feasts of the holiday season, not knowing what to do or where to start it's easy to feel like you're always playing catch up.  Luckily, Brunswick Forest's own exclusive Health Coach, Alan Murphy ofLiftingKale.com has some helpful tips on how to create a new and improved you for the new year!
We often make plans for everything in our lives, from career plans, finance plans, retirement plans, and the like.  It's also often that we completely forget about planning for our most important asset, and that's our physical health!  Amongst the abundance of knowledge that Alan brings to the table as a certified Integrative Health Coach and Fitness Trainer, is to write down a full-fledged fitness plan so it's easy to keep track of your goals and progress. Map out what you're intending to accomplish with your new fitness plan and list out the goals you wish to accomplish, otherwise it can be easy to forget during the chaos of the new year! Planning to help yourself to achieve your goals, can be as easy as writing down reminders on your weekly calendar to attend one of the many fitness classes that are offered right here at the Brunswick Forest Fitness Center.  Scheduling a regular walk with a friend around the many trails that wind through the communities in Brunswick Forest can also be a great way to get yourself up and about, and on the path to a good life for 2019.
Fun Fact:
Brunswick Forest encompasses a network of more than 100 miles of paved and unpaved walking and biking trails that connect Brunswick Forest's various neighborhoods to all the amenities, parks, and natural areas found throughout the 4,500-acre reserve. No other community in the Wilmington area offers as many walking and biking trails as Brunswick Forest!
Making scheduled plans for physical activity is of course incredibly vital, but it's important to not forget the little things that can also lead make a huge difference in the way you see yourself for the new year!  One of those, is keeping in mind the things that you are putting in your body, such as fluids.  Coach Alan recommends drinking plenty of water while implementing your new year's fitness plan, as water is essential to good health.  We've all heard the saying that you should drink 8-ounce glasses of water per day, and while this is mostly true, each person will have their own variations in their water consumption. To make sure you are hydrating enough during your routines, Coach Alan also recommends keeping a water bottle nearby, throughout the day, to sip on.  What's another added benefit of all this? Replacing sugary sports drinks, sodas, and juices with water in your daily life will help to melt away extra weight in addition to what you would already lose from an active lifestyle!
If you're interested in getting some personal instruction on how to reinvent your best self for 2019, look no further than the Fitness Center here at Brunswick Forest to get the guidance you need to help achieve your new year resolution goals. Whether you're looking to lose weight or just want a fresh opportunity to better yourself, there's no better place or time to get started!