HEAD TO AREA FARMERS' MARKETS FOR A WIDE VARIETY OF LOCAL PRODUCE AND MORE
May 27, 2016
Brunswick Forest
Coastal North Carolina's mild climate offers local farmers a long growing season which means more delicious, fresh and local produce for Brunswick Forest residents. Head to these local farmers' markets this summer and get your fill of healthy foods!
DOWNTOWN RIVERFRONT FARMERS' MARKET
The downtown Riverfront Farmers' Market is one of the largest farmers' markets in the area and features a wide variety of both edible and non-edible goods from local purveyors. Buy fresh flowers, homemade wine, local crafts, fresh produce and more at 1 N. Water Street in historic downtown Wilmington each Saturday from 8 am to 1 pm, April through November.
OGDEN PARK FARMERS' MARKET
Every Wednesday from 8 am until 1 pm, the Riverfront Farmers' Market holds its companion market at Ogden Park, so in case your Saturday is full, you can catch many of the same vendors later in the week in Ogden!
WRIGHTSVILLE BEACH FARMERS' MARKET
Head over to Wrightsville Beach on Mondays, May through September, for its local farmers' market. Located at the greenway of the Parks and Recreation Center in the heart of the island, this farm market is popular with locals and tourists alike.
POPLAR GROVE FARMERS' MARKET
Wednesdays from 8 am until 1 pm, April through the end of September, head to historic Poplar Grove Plantation for its local farmers' market. While you are there, visit the Animal Sanctuary, and the Abbey Nature Preserve which is free and open to the public all year long.
LOCAL FOODS OFFERED AT LOWES FOODS IN THE VILLAGES
Brunswick Forest residents do not have to leave the community for fresh, local produce! Lowes Foods at The Villages at Brunswick Forest offers a wide variety of local produce all year long.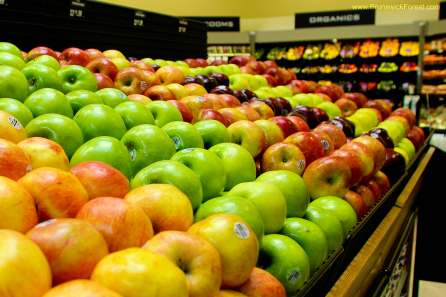 888.371.2434
www.BrunswickForest.com