HEAD OUT TO TAPAS NIGHT AT THE FOREST
May 19, 2015
Brunswick Forest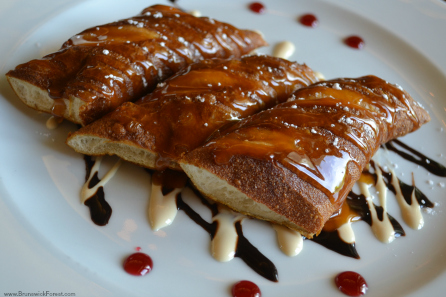 Brunswick Forest is proud to announce a brand new theme night at The Forest at Cape Fear National! Join us this Thursday, May 21st at 6 pm for a night of Tapas and Taps!
Tapas originated in Spanish cuisine and consists of a series of appetizers or small plates of traditional foods. Now the term is widely used to describe any kind of small dish or appetizer-sized portion that is meant to be combined with other tapas-dishes and shared with dining companions.
At The Forest, this week's menu includes a wide variety of tapas dishes like potato croquets, braised mushrooms, caramel pretzel knots, sweet chili wings, pulled pork and brisket sliders, coconut curry mussels, crawfish cakes and brownies with ice cream.
"We are always working to try new theme nights for our dining guest," says The Forest Chef Randall Potter. "We want to keep things fresh and new for our residents and their guests and we want them to keep coming back for their old favorites as well. We are excited to try out some new menu items with our tapas night and really showcase what the kitchen can do."
Sign up here for Tapas and Taps night.
888.371.2434
www.BrunswickForest.com