HAVE A SPOOK-TACULAR HALLOWEEN
October 12, 2014
Brunswick Forest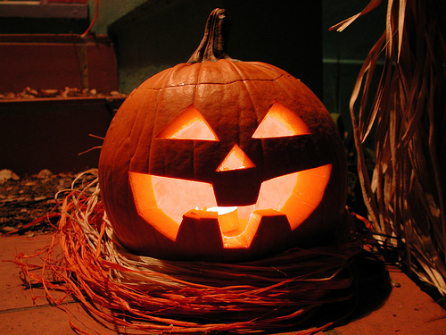 This month, Brunswick Forest residents have plenty of options for things to do to celebrate Halloween. With activities and events planned both within the community and in the surrounding area, homeowners are sure to have a SPOOK-tacular holiday!
WILMINGTON HORROR STORY
Wilmington's TheaterNOW presents "Wilmington Horror Story" October 3rd through November 1st. Enjoy "three tales of terror by three very talented local scribes served with a devilishly delicious three-course, horror-teamed meal" at this unique dinner theater venue.
GHOST WALK OF OLD WILMINGTON
Take a tour of historic downtown Wilmington and hear tales of long-ago murders and other misdeeds that have occurred in this 275-year-old city at the Ghost Walk of Old Wilmington. This 90-minute family-friendly journey includes historical information as well as stories about the alleged spirits that haunt the Port City.
HALLOWEEN GHOST TROLLEY AND HAUNTED BARN
The Halloween Ghost Trolley and Haunted Barn Tour is the perfect Halloween excursion for the grandkids. Listen to ghost stories tailored for small children and "experience Halloween the way it used to be." Tour dates are October 24th, 25th, and 29th-31st 6 p.m. to 9 p.m.
HALLOWEEN PARTY AT CAPE FEAR NATIONAL
Visit the clubhouse at Cape Fear National this Halloween, Friday October 31st at 6 p.m. for a Halloween Bash! Enjoy Halloween-themed drink specials, music and karaoke, and a costume contest.
FALL BLOCK PARTY AT THE VILLAGES
On October 30th from 5:30 p.m. to 7:30 p.m., head over to The Villages for a Fall Block Party! There will be candy and other goodies, beer samples, a deejay, and costume contest for adults and children.
HAUNTED TRAIL AT GRISSETTOWN
Grissettown Longwood Fire & Rescue presents its annual Haunted Trail Fundraiser every Friday and Saturday night in October. The trail is a self-guided, 30-minute tour filled with interactive props and actors. Tours begin each night at 7 p.m.
888.371.2434
www.BrunswickForest.com
(photo: Creative Commons "Jack-O-Lantern" by Jeff Kramer CC-BY)